As baby approaches 24 months, he or she becomes more independent. He is able to walk (or almost) and he is able to move objects with his little hands. With his new abilities comes a need to develop his senses. He wants to touch, see, smell, listen and taste. Your role as a parent or baby sitter is to help him develop his senses and progress. Especially since this period is characterized by an "unconscious absorbing mind". Wrongly, when we think of creating early learning activities for 2-3 year olds, we imagine that it will be mission impossible. But don't panic, Kidlee is here! And has prepared a list of easy activities for your little ones.
The sensory bin
This activity inspired by the Montessori pedagogy is indisputable. It allows the child to touch, feel and manipulate several objects. It is therefore ideal for the development and the awakening of the child. To know how to make one, go to here.
Musical awakening
The musical universe is infinite and it is better to bathe in it from a young age! To do this, you can do singing sessions all together as a family or get out the wooden pots and spoons. If you want to know more about musical awakening, go to here.
Sorting out
At this age, we can only recommend sorting activities, as they allow the development of structured reasoning. Sorting can be done by color, size, type of object, number, etc. Here are some examples of sorting activities.
Sorting pairs of socks (practical and fun!)
Sorting out the tricolored pasta
Transfer and/or pour for endless awakening activities
Let's face it, children love to manipulate, pour, fill, and that even if it means putting it everywhere.
For this type of activity, you will need two containers. For example, two tissue boxes, two tubs or two bowls. The child will have fun transferring from one container to another. For the items to be transferred, let your imagination run wild!
The favorite activity of the editors: transferring water from one container to another with a sponge at first and then with a pipette.
Puzzles are part of the early learning activities
So, no, puzzles are not out of fashion! They improve the concentration and visual memory of the child. Also, you can buy them in stores or on the net as well as print and cut them out! It is this is where it happens.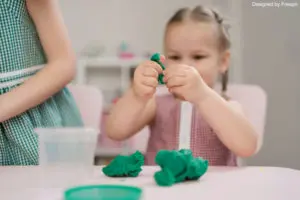 Do some modeling
Whether it is with modeling clay or salt dough, the child will love to manipulate! Moreover, it will allow him to develop his fine motor skills and his creativity. By the way, don't hesitate to read our article on salt dough.
Everyone in the kitchen for early learning activities!
Cut
What if the child joined you to prepare a nice little meal? Often, we are afraid of the dangers of having a child in the kitchen. However, all you need to do is get it right. According to our little eatersYou can start with a plastic knife and explain to the child how to do it. Once the gesture is mastered, you will have to start with easy to cut foods such as banana or cheese.
Peel
The child is not a fan of oranges? Ask him to peel one and you will see how he will become the biggest fan of this fruit. When a child learns to peel his own fruit, he gains autonomy and it is rewarding for him. That's why he won't hesitate to try it again. Alternatively, if he is very agile with his hands, you can also give him a hard-boiled egg to peel.
The flour game
While you're in the kitchen, you might as well get out the flour packet. Put some of it in a tray and show the child how to draw in the flour. For example, hearts here, stars there - the important thing is to create! This will also help the child develop dexterity.
At Kidlee, we believe that it is important for children to be happy during their daycare hours. That's why we support our great babysitters through various workshops, trainings and playful contents. So that they can offer the best support to their turn.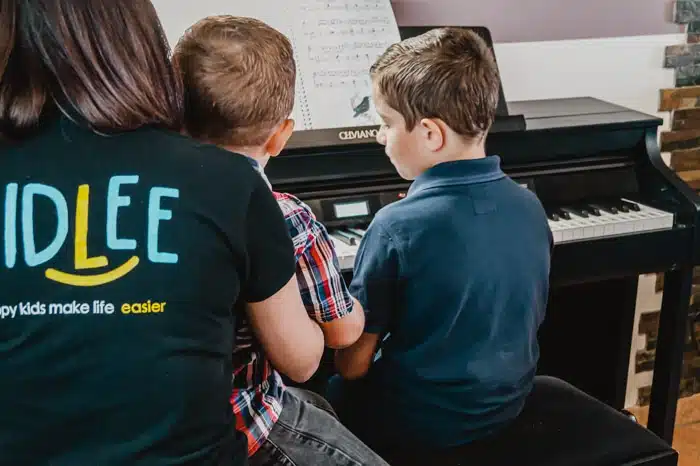 In other words, sign up with Kidlee (if you haven't already) and you'll have no shortage of resources to keep the kids busy while you babysit. To discover our universe, just click here !
Are you a parent and want to know more about Kidlee Babysitting? Then don't hesitate to write or call us! Our consultants will be happy to answer your questions. Find our contact information just HERE !