Christmas is coming and you are wondering about the most trendy games and toys to give to your child...
To help you prepare for it, we conducted our little survey.
So here are the hottest and most popular games and toys of the year!
LEGO Hidden Side - The paranormal school bus,
From 8 years old
Among the 2019 Toy Grand Prix, this bus like no other promises to amuse many with its ghost hunt! Its particularity, beyond being paranormal? Its augmented reality aspect, available via the application dedicated to it. Your children will discover a whole world hidden behind the screen! Available on : Amazon
Monopoly L.O.L Surprise, Hasbro Gaming
From 8 years old

Monopoly, a great classic of board games, keeps on diversifying with more and more amazing adaptations. Among them, the adorable L.O.L Surprise version. Through this game, children will exchange and acquire dolls to have the most beautiful collection. To win, simply browse the board and collect the most coveted dolls from the LOL Surprise collections! Available on : playclub
Hot Wheels City Mega Garage, Mattel
From 5 years old

Mattel's Hot Wheels toys are well known for their sophisticated assembly. And this giant garage is no exception to the rule! With its vertical tower, elevators and parking spaces, it can accommodate up to 90 cars. Your children will be able to propel their little cars and cross this circuit without being devoured by the terrifying shark! Available on : Amazon
Fabulus Potium, Dujardin
From 8 years old
Have your children always dreamed of being a magician's apprentice? The dream is sure to come true with Fabulus Potium! Both the Toy of the Year Award and the Scientific Toy Award, this game is the perfect kit for the little magician. Between grimoire, magic formulas, Mandragora oil, unicorn blood and other dried snakes, your children will have all the keys in hand to become the best of wizards! Available on : Amazon
Barbie Dreamtopia, luminous unicorn
From 3 years old

This toy will enchant Barbie fans! This Barbie doll comes with her beautiful unicorn with a rainbow mane. It will enchant your children with its ultra fun and original sound and light effects. A simple pressure on the horn of the unicorn or that Barbie makes him chew the small ice cream cone, for the unicorn lights up sublime stars accompanied by music and various sounds! Available on : Amazon
Mr. Potato, my chatty friend
From 3 years old

It had to happen... Indeed, Mr. Potato Head starts to speak, and to sing too! Bringing a real educational value which develops the imagination and boosts the psychomotor capacities of the children, this talkative version of Mr. Potato Head, can pronounce more than 40 sentences and songs. And as he is passionate about singing, he covers the greatest classics wonderfully well! Available on : Amazon
Track Agency , Dujardin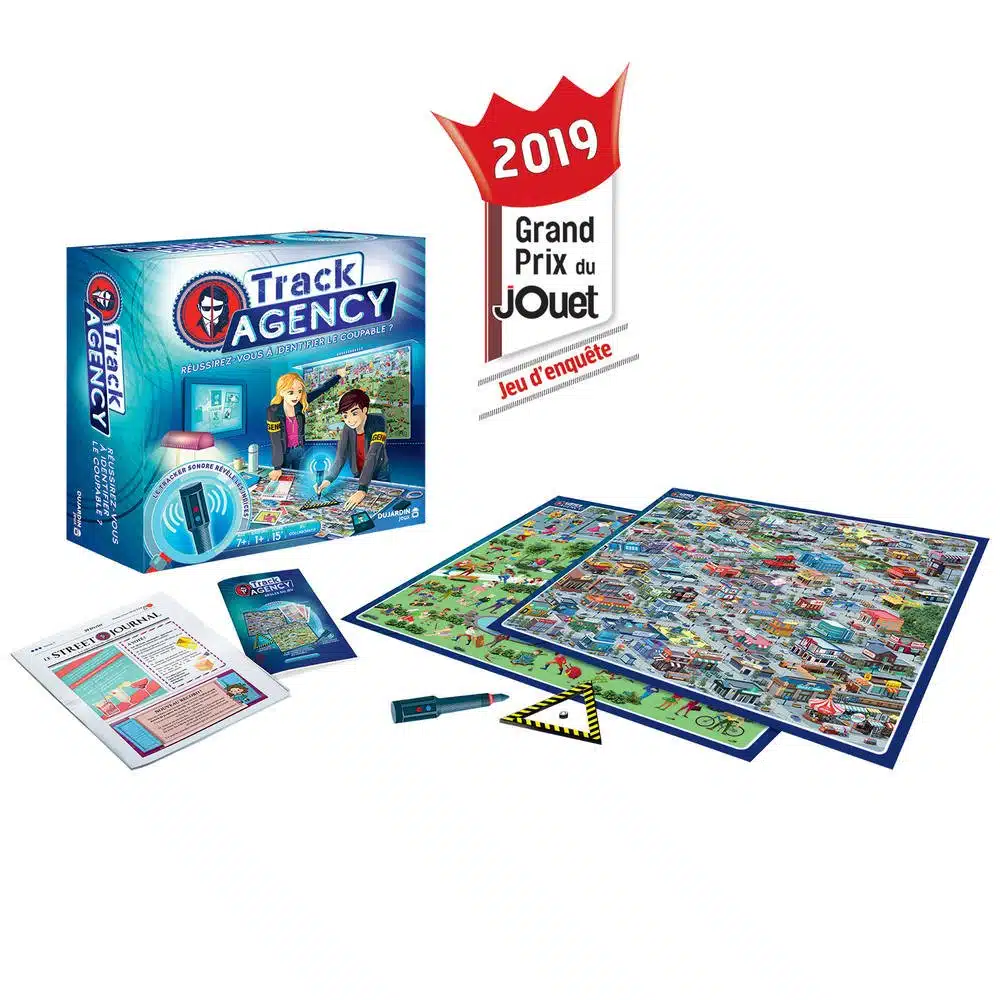 From 7 years old

Ideal for budding investigators and fans of judicial enigmas. Indeed, Track Agency is an ultra elaborate board game for a maximum of realism. In total immersion in the police world, your children will be equipped with a spy accessory, a real special agent tracker, which will help them solve crimes by tracing the movements of the suspect in order to find and arrest him. Available on : cdiscount
Cubby, the curious bear, FurReal Friends
From 4 years old

The editors' favorite is the adorable Cubby, an interactive teddy bear that is more real than life! Incredibly realistic, Cubby is pleasantly curious and expressive, he loves to be cuddled, kissed and he loves to play. Responding to over 100 combinations of sounds and motions, Cubby can move his head, eyes, ears, muzzle, mouth and arms making adorably funny noises. He will be your child's perfect best friend day or night! Available on : Amazon
Croko, the programmable crocodile
From 3 years old

Introducing the little ones to programming couldn't be easier than with Croko, the programmable crocodile that will amuse your children with its sound effects, the way it reacts when approached or the way it detects its magnetic food! With 15 directional pieces to position on Croko's back to create movement sequences, make him move or turn, your children will gradually take their first steps in programming. Available on : Amazon
Now you are ready to anticipate the trendy games and toys that your little ones will love every time. Santa will then carefully place them under your tree 😉
Don't hesitate to tell us in comments, what are your children's favorite toys!