Making your own greeting cards is both a touching thought and a very rewarding experience for children. Making a nice little card and then giving it to loved ones is indeed a very satisfying act for youngsters. On the one hand, it will awaken their creativity, and on the other hand it will also encourage them to practice writing. To this end, Kidlee has put together a little compilation of DIY greeting card ideas for Christmas and New Year to wish your loved ones a Merry Christmas and a Happy New Year. Here are 10 DIY ideas to have fun with your kids.
Santa's hat greeting card
Ho Ho Ho! Santa Claus hides the magic of your words under his hat! The card can also be used as a funny hat for souvenir photos! 
To make this super simple card, you will need:
Cotton,
Glue stick
Red colored paper
White paper
A pair of scissors
Christmas and New Year greeting card in relief!
https://www.pinterest.com/pin/586242076491361379/
You can make a tree in relief in different colors! This tree is made with small origami that you will add to your card. It would also be interesting to adapt it according to your preferences: a realistic green tree? Or pink for more sweetness? Why not a golden one to make it more festive? Let the child choose to make his or her own tree according to the desired theme!
Christmas face greeting card
https://www.pinterest.com/pin/707487422689852707/
Have fun making special Christmas and New Year cards! You can do this by adding a picture of the children's faces instead of Santa's. In addition, all you have to do is follow the steps in the video and start by cutting out and coloring the face and hat of Santa. Then, glue the photo that you and your child have chosen. Finally, once the photo is glued, add the beautiful white beard!
Christmas at your fingertips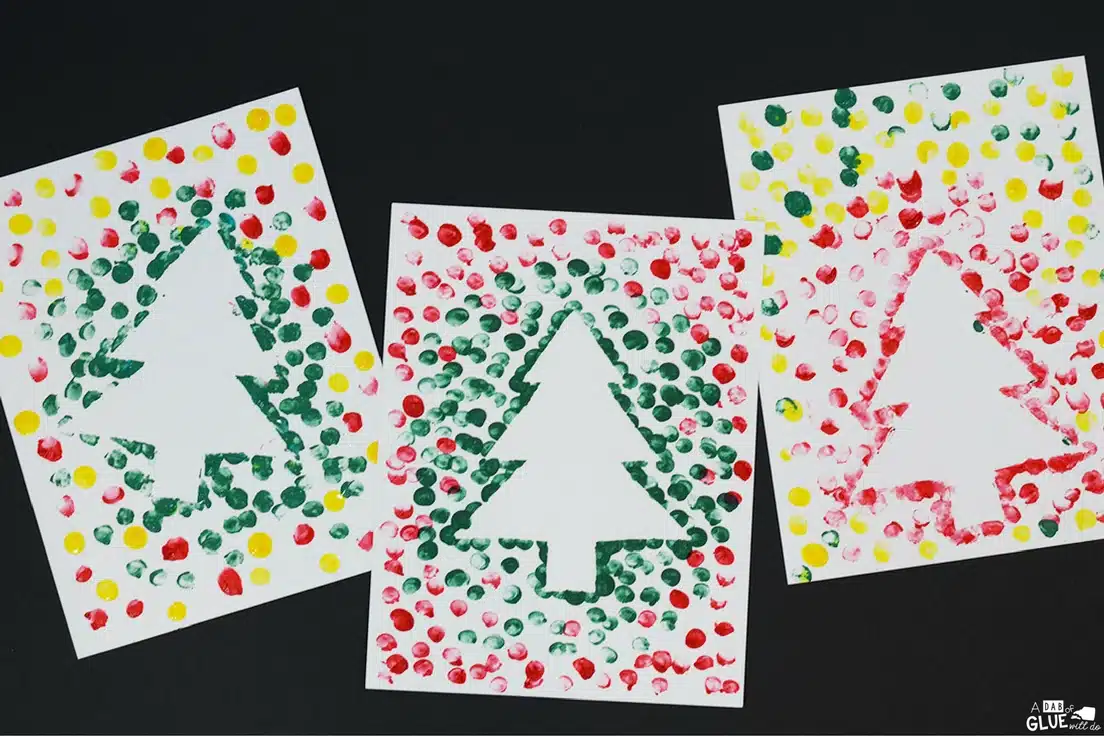 This card will be a lot of fun for your child to make. To make it, you will need paper (white and black), a pencil, scissors, ribbon, and most of all your child's little fingers! What's more, your child will have a lot of fun decorating the card with the tree's imprint and especially his imprint! You will find the tuto in detail just HERE!
Surprise greeting card! 
If the presents are hidden under the tree, then your wishes will be hidden under Santa's beard! Santa will hide your wishes under his beard to pass them on to the person you are giving them to. In addition to being atypical and funny, this card is also very simple to make. Download and print the elements HERE. Then cut them out and follow the steps shown for assembly, and you're done!
What a great gift! Ideal Christmas and New Year greeting cards
https://www.pinterest.com/pin/350014202297474289/
Give a pop up card that hides a beautiful gift: a box that lets out lots of cute little hearts. All in all, it's an easy card to make and full of thoughtfulness! Your kids can also vary the colors of the hearts! Why not make stars with the hearts too! Let your kids' creativity surprise you! What better way to wish a happy new year? 
A burst of good humor! 
Pass on the good cheer to your family with this great Christmas reindeer! This card was a hit last Christmas after we featured it in our articleThis is due to its ease of implementation. However, it is preferable or even desirable that you are present to control and verify the progress. For this activity, you will need :
Green paper for the background first
Brown paper for the reindeer head
Red paper for the muzzle
Eye stickers or wide eyes,
Glue,
A pair of scissors.
Then, through a few manipulations you will have a cute reindeer with a red muzzle!
Make the most beautiful wishes with this Christmas and New Year greeting card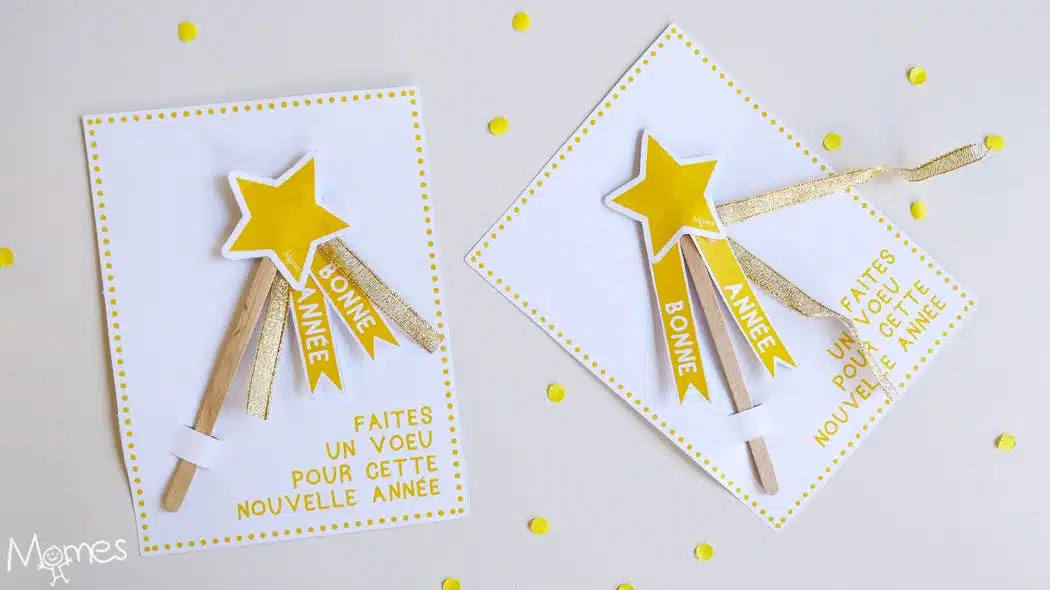 Equipped with a magic wand, this card proposed by Momes will make a wish for the year 2021. Plus, this year will start off relatively well with a lovely card from such an adorable little sweetie! For a magical New Year with this beautiful card, the tools you'll need are:
Scissors,
Glue,
A small wooden stick,
Ribbon
Download and print the rest of the map here.
After that, all you have to do is follow the steps.
Colorful card to end the year well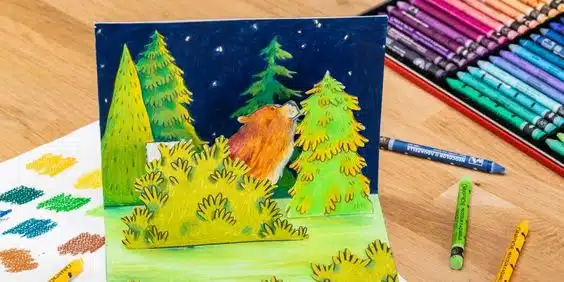 This pop up greeting card proposed by Caran d'Ache leaves a beautiful snowy forest. Nothing better than a little coloring workshop to relax your children! First, download and print the map elements. Then, color the map, cut out the tabs on the dotted lines and fold them to form little stairs. Finally, glue the elements with the corresponding number. Find the elements to print and the tutorial in detail just HERE !
Christmas and New Year greeting card shaker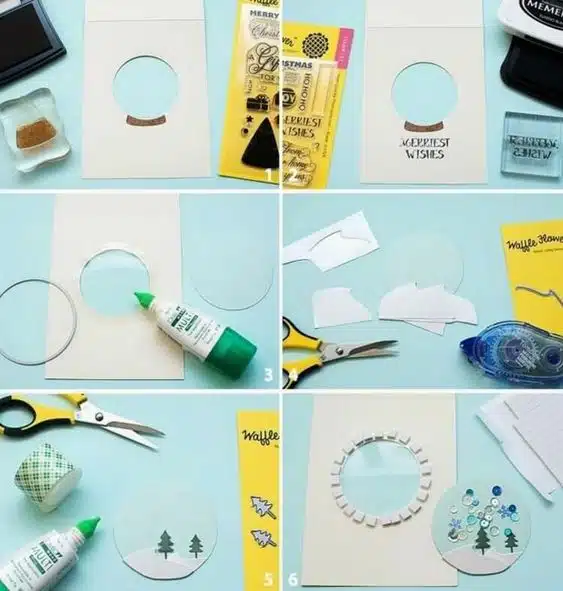 If your kids love glitter, they will definitely fall for this shaker card! To make this card, you will need roughly:
Colored paper to draw your decor,
Card stock to make the card,
Plastic sheets for the window,
Adored glitter
Tape to hold everything together!
Finally, you can find the details of the tuto by clicking just HERE