Ah the beauty of vacations for children, no school, no alarm clock, lots of free time... we can't say the same for parents or baby sitters. Because you'll have to be extra creative to make sure your little balls of energy don't get bored. Don't panic, Kidlee is here and has prepared some ideas to keep the kids busy during the summer vacations.
A little trip to the kitchen is a must during the vacations
If there is one place that puts everyone in agreement, it is the kitchen. In fact, some time ago, we proposed the Top 5 homemade cookie recipes to make with kids or even 3 easy recipe ideas for a healthy snack, today we come back with a recipe of home-made ice cream. Moreover, in summer time, we can't say no to an ice cream. This rainbow sorbet recipe will be a hit with the kids. All the colors of the rainbow are there thanks to the pretty fruits used. For the recipe, it is by here.
Ideas for vacation outings especially for Parisians
Audrey Hepburn once said, "Paris is always a good idea. Except that when it comes to finding activities to keep the kids busy during the summer and you don't get any ideas, you don't necessarily agree with Audrey. Without further ado, you will find a top of family activities to do during the summer in Paris carefully written by the editorial staff here.
Wouldn't it be a good time to take advantage of the good weather?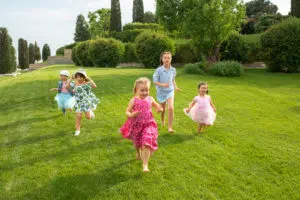 It's not every day that the sun comes out and we have free time. So during the vacations, there is only one motto: enjoy the good weather! And in order not to be left out in the cold, we have prepared a list of outdoor games to do with the kids. Playful activities here, outdoor games there and even competitive outdoor games to find by here.
A day at the amusement park
As we keep saying, the amusement park is the ultimate solution to break the routine. Whether it's for rides, watching a show or admiring the animals, you have a wide choice. By the way, if you haven't yet read our article on the top amusement parksIt's surely time to go and have a look at it. 
Make a teepee
Whether you have a backyard to put the tent in or not, this is a genius idea that will make the child go crazy with joy. If you're short on space, feel free to put the teepee up in the child's playroom or bedroom, so he or she will have their own little secret world nearby. Want to know how you can make a teepee in 8 steps?
You will need 6 sticks to give the teepee its hexagonal shape. Preferably sticks that are 1.8 meters long and approximately 19 mm in diameter. You will also need 4 or 5 meters of fabric, the more the bigger the tipi. Choose a fabric that is strong enough for the teepee to last a long time. Finally, 1 meter of rope.
Now that you have the theory, it is necessary to move to the practice. To do this, you must follow the steps mentioned by Club Mamans.
Don't forget to take out the vacation notebook
School vacations are not only synonymous with rest. It is also an opportunity for the child to maintain an intellectual gymnastics and to prepare for the next school year. It is important to remember that there is a lot of choice on the market. That's why Kidlee has prepared a top vacation notebooks to buy for your little one.
Take a dip in the pool
With the lockdown, you too have forgotten the habit of going to the pool to do a little crawl and return to your business? The good news is that as of June 09, 2021, they have reopened. So, how about an afternoon at the pool with your little one? In addition to being a sporting activity, it will allow you to refresh yourself. To find all the information concerning the swimming pools of the city of Paris, go to here.
With Kidlee's smartisitting, we say goodbye to boredom during the vacations
At Kidlee, we believe that it is important for children to feel fulfilled during their after-school care hours. That's why we support our great baby sitters through various workshops, training and fun content. So that they can offer the best home childcare in their turn.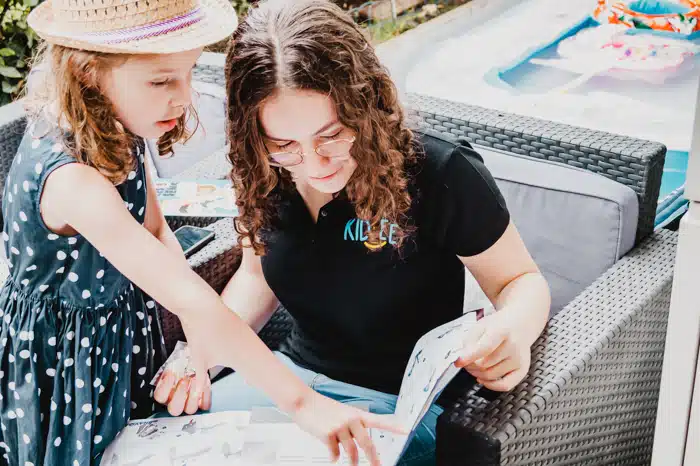 In other words, sign up with Kidlee (if you haven't already) and you'll have no shortage of resources to keep the kids busy while you babysit. To discover our universe, just click here !
Are you a parent and want to know more about Kidlee Babysitting? So, don't hesitate to write or call us!
Our consultants will be happy to answer your questions. Find our contact information just HERE !