Goethe said: "magic is believing in yourself, if you can do it, you can do anything!". And you, do you believe in magic? Yes, no, however those who believe in it hard and fast are the children! So, why not make them happy by teaching them some magic tricks? Ah, we hear that you don't know many, if any, magic tricks. Don't panic, Kidlee is here! And has prepared a top of the line magic tricks to perform with the kids. Ready to see sparks in their eyes? Let's go !  
A quick and efficient magic trick
For this trick, you will need salt, pepper and a balloon. Yes, just that! First, you'll need to start by pouring the salt and pepper into a flat container. Now all you have to do is inflate the balloon and get it close! Oops, all the pepper settles on the balloon without the balloon even touching it. Isn't it magic? Actually, thanks to static electricity.
A magic trick for those who love math
We start with a "magic trick" based on mathematics. Does it seem paradoxical? However, the effect will be there! For this one, the trick consists in guessing the age of the person. All you need is a sheet of paper and a pencil to give to the child whose age you are supposed to guess. Then, you will ask the child to write his age, multiply it by 3, add 6 and finally divide by 3. We reassure you that the use of the calculator is allowed. Now, all you have to do is ask for the result, take away 2 and you will have the child's age!
If you succeed, the kids will be amazed and will repeat it at school with their friends.
The little magic finger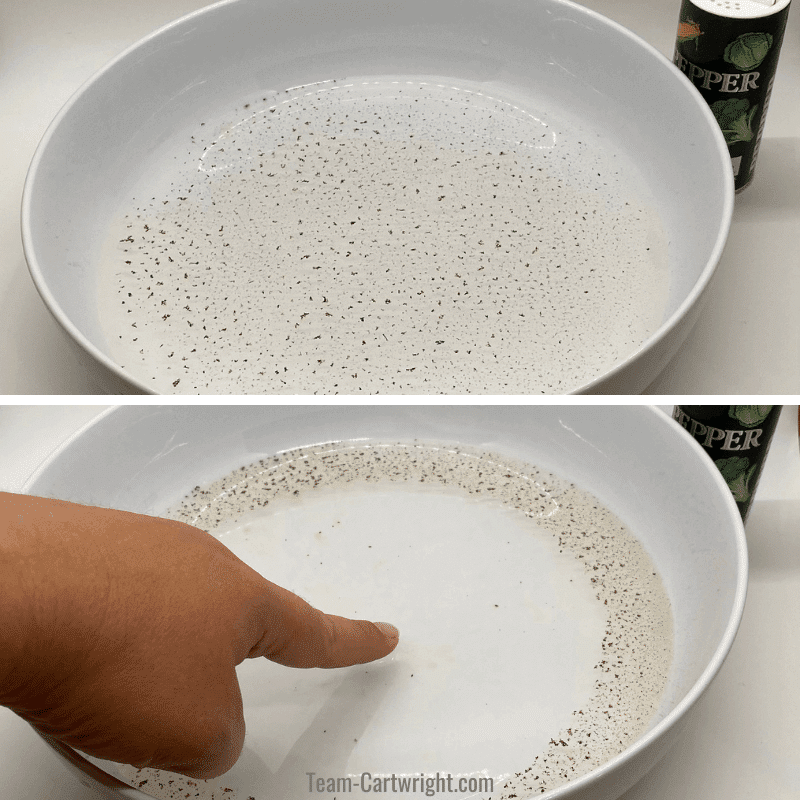 We continue with a second round that involves pepper! We can see the "Sneezy" coming but let's say that, nevertheless, this element remains at hand. So, it will be easier for you to do a trick with it than to use other elements. You'll need a white soup plate, a glass of water, some washing up liquid and of course pepper! First, put a glass of water in the plate and then sprinkle the pepper. The pepper should cover the entire surface of the plate. Now all you have to do is work your finger magic! Indeed, the pepper will be pushed back by the only force of the finger and it works even with the small finger.
Make a room disappear with magic!
To perform this magic trick, you will need two sheets of paper of the same color, a pair of scissors, glue, a glass, a pencil and a coin. Start by taking the sheet and tracing the outline of the glass with a pencil, which you then cut out. Now put glue around the circle to cover the glass. Then, put the piece on the large sheet. All you have to do is put the glass on the piece and then the piece disappears under the glass. Don't forget to use a small towel to give this trick a "wow" effect.
If not, have you considered Kidlee?
At Kidlee, we believe that it is important for children to be happy during their daycare hours. That's why we support our great babysitters through various workshops, trainings and playful contents. So that they can offer the best support to their turn.
In other words, sign up with Kidlee (if you haven't already) and you'll have no shortage of resources to keep the kids busy while you babysit. To discover our universe, just click here !
Are you a parent and want to know more about Kidlee Babysitting? So, don't hesitate to write or call us!
Our consultants will be happy to answer your questions. Find our contact information just HERE !