If a while ago we were talking about the importance of themusical awakening. Today it is the turn of the awakening to foreign languages. It is important to know that when a child is small, he or she focuses on the sounds that are most common in his or her environment and can quickly identify these sounds. This is why the earlier the child is immersed in a bilingual or trilingual environment, the better. Because he will develop a sensitivity to different sound panoplies. So, here are some ideas for games to try for a successful English school outing.
What's in my bag ? - what's in my bag ?
First of all, you must have a bag! Then, you put a little bit of everything in it, an apple, a pen and even a comforter. Finally, let the child put his hand in the bag and choose an object. They have to guess what it is without looking and pronounce the name of the object correctly in English.
English school trip: Hey Doc! - hello doctor
The adult is standing and must say which part of the body hurts. For example: my knee hurts. And so the children have to point to the place where it hurts.
English school trip: Simon says the equivalent of James said
In France, we have Jacques and the English have Simon. The game is based on orders: Jump, sit down, run. Of course, you must not forget to say before Simon says and please at the end.
Finally, here is a pdf for those who lack inspiration. This one gathers ideas from Simon Says to be found here.
English school trip: pass the ball
This game is recommended for children who already have a basic knowledge of English in school. It is also ideal for working on sentence construction. To begin, players should stand in a circle. Once everyone is settled, take the ball and throw it in the direction of the child and ask them a question in English. It is important to keep the questions simple and at the child's level. The child will have to answer with a sentence of his own construction.
For example, say, "What's your name? and the child should answer: "my name is Luka". If the child is not yet able to construct sentences, he/she can answer with one word. Depending on his level, the child can also ask a question by throwing the ball in turn, to you or to another day, the most important is to have fun!
I spy - I see
The principle is simple, you must choose an object that you can see from where you are. Choose an object that you can see from where you are. Let's take the example of a tree. Then you say "I spy with my little eyes something green" that is to say that you will highlight the color of the object. And then the children have to guess what the object is by asking questions. "Is it the bag?". Finally, they will continue until they find the right answer.
If you want more ideas on how to teach English to children, check out our article: 6 games to teach children English!
The miracle solution: bilingual after-school care
If you are a parent and you don't really have time to prepare games to teach your children English, why not opt for an English-speaking nanny?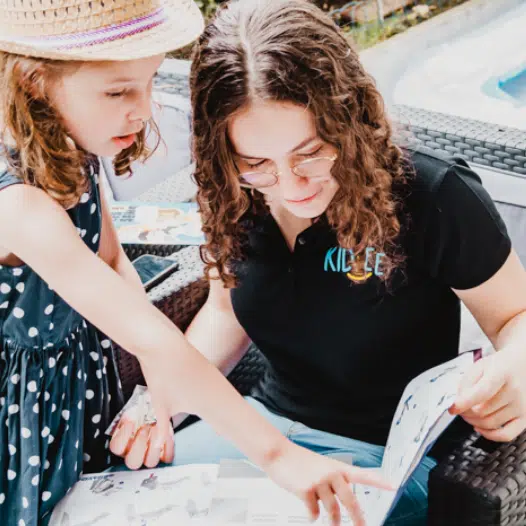 In this way, learning a foreign language is done naturally and in a fun way. Through daily exchanges and linguistic games with the bilingual nanny or English nanny. Bilingual childcare allows the child to stay in a familiar environment and learn a language without realizing it.
In-home childcare with Kidlee bilingual babysitters
At Kidlee, we also offer bilingual babysitters as part of our fun babysitting program. Thanks to our Montessori inspired training, our students are on the attack every day to help your children progress through an innovative childcare service. They will help your children to carry out rich and diversified activities without running out of ideas, while helping them to progress in their chosen foreign language. The candidates come from the best higher education institutions and are selected by our team in order to offer you the best support for your child.
Choose our native babysitters
Some Kidlee profiles can even give English lessons to your children, depending on their level. For a total immersion, you can also opt for profiles whose mother tongue is English, an English or American nanny, for example, will be able to introduce your children to English by bathing them in this language in a fluid and natural way during her hours of care.
Choosing to hire a qualified person to look after your children will allow you to be serene on a daily basis. A bilingual babysitter can bring a lot to the table. Thanks to our selection of candidates according to their profile, their experience and their motivation, the quality of their services will be guaranteed. Let's make room for serenity and confidence for the best possible support for your child!
Want to know more about Kidlee babysitting? So, don't hesitate to write or call us !