If you find yourself on this article today, it's because the kids have gone gaga over the cartoon Pat'Patrouille. We reassure you, you are not the only parent or babysitter to be in this case. On the other hand, as super parents or super babysitters, you will surely propose them some great Patrol activities, just to please these little monsters. But also, so that they don't have to watch this cartoon morning, noon and night. No worries, Kidlee will keep this secret and reveal you the 5 patrol diy concocted by the editor.
Great Patrol badges
We'll start with an activity that has a zero level of difficulty. For this one, you'll just need a printer and some blank paper. You can find the badges to print by here. Let the children express their creativity by coloring them. Finally, all that's left to do is hold them in place with a paper clip on the shirt.
You can also try drawing badges with the kids or making badges with felt. For the brave, here is a tutorial for great badges!
A Pat Patrol bookmark
For this DIY, you will need:
From paper to colored origami ;
Scissors;
Markers;
Wooden stick;
Glue.
You can also prepare in advance paper elements to glue (ears, truffles, Pat'Patrol hats...). All you have to do is let the children decorate their bookmarks as they wish. As a bonus, we let you a video tutorial.
DIY Patrol - Help Marcus!
Here, the difficulty goes up a notch. For this diy, you'll need cups (preferably red to remind you of fire), stickers with flames and balloons.
First, glue the stickers on the cups. After that, you will have to arrange the cups in a pyramid. Now all that's left is to help Marcus put out the fire. So offer to help him by sending water bombs at the flames. The one who manages to knock down the last cup will be the grand champion!
DIY Patrol to learn while having fun
This time, it is not only one diy but several at once so we say thank you to Milestory. The latter has prepared math worksheets for kindergarteners, digital puzzles, and even writing worksheets. And all this, in the Pat'Patrouille theme! To download this nugget of a file, go to here.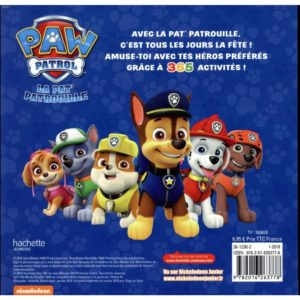 The book that will save the day!
If you have already offered many Pat'patrol activities to your children but they still want more, here is a miracle solution. A Patrol book with 365 activities, one activity a day, so you can keep them busy for a year. In addition, there is coloring, charades and patrol games, enough to please the child. To buy this book, go to here.
If not, have you considered Kidlee?
At Kidlee, we believe that it is important for children to be happy during their daycare hours. That's why we support our great babysitters through various workshops, trainings and playful contents. So that they can offer the best support to their turn.
In other words, sign up with Kidlee (if you haven't already) and you'll have no shortage of resources to keep the kids busy while you babysit. To discover our world, just click here !
You are a parent and you want to know more about babysitting Kidlee? So, don't hesitate to write or call us!
Our consultants will be happy to answer your questions. Find our contact information just HERE !