When it comes to talking about childcare in Paris, there are two key things to know. The first and least cool thing is that Paris is the most expensive city for babysitting. The good news is that the capital city offers an unlimited choice when it comes to finding someone to look after the children in your absence. So, between childminder, babysitter, au pair or even parental auxiliary, to find the ideal nanny in Paris, you have plenty of choice. We detail all this for you to make a decision.
Nanny in Paris : the different options !
Certified childminder
The childminder takes care of one or more children under the age of 3 in his or her home, on a regular or occasional basis. The childminder is a professional in childcare and early childhood trained and approved by the General Council. It is essential to specify that this profession cannot be exercised without an official certification. Contrary to babysitters or nannies at home who move around, the childminder keeps the children at home or in a MAM (Maison d'Assistantes Maternelles). Moreover, if the childminder moves to the parents' home, she is qualified as a childminder and in this case can take care of children up to the age of 10.
The parent's helper
Unlike a childminder, a parent's assistant does not need to have a license. Moreover, she comes to the home. Her objective is to accompany the child throughout the day while the parents are working. She also assists the parents when they are present. She respects the rhythm of the family's daily life and participates in the awakening and education of the children. Generally, the parental assistant looks after children from 3 months to 10 years old.
The au pair
It is the perfect childcare option if you want to introduce your child to a new culture/language. The au pair is a foreign student who comes to France to study. Paris has no shortage of foreign students.
His/her mission is to integrate the family as a nanny and help with simple household tasks with a maximum of 5 hours of work per day. On the other hand, he or she has classes to attend. However, make sure that you have an extra room to accommodate him/her.
The nanny at home in Paris:
The search for a nanny can be a mission impossible. It's not easy to find the perfect one! The nanny comes to your home to look after your little one on a regular basis. Her rate can vary with the years of experience and if there are tasks in addition to the care. The nanny is the almost perfect solution because you still need to have confidence! Moreover, if you want to know how to find a trusted nanny, it's by here.
The baby sitter
It is a mode of care which can be punctual or regular. Whether it is for school outings, Wednesday afternoons or evenings on weekends. Baby sitting can take place at your home or even elsewhere. Baby-sitters and even nannies are generally experienced childcare students and flexible in terms of availability. For school outings and homework help they are a great alternative!
Baby sitter for after school and more
Your children finish school earlier than you do and you don't even have time to pick them up at school. That's when you call on a baby sitter who will have to pick them up and keep them busy until you return. There is a possibility for him or her to also do baby sitting in the evening as well as school accompaniment.
Evening babysitter
He or she will take care of the children from six o'clock until you return. Very useful if you don't finish work early or like to go out with your friends in the evening.
Baby sitter for the night
A very recent phenomenon, but one that never ceases to be talked about. Dear parents, if your dark circles speak for you, it is time to opt for a night baby sitter. He or she will take care of baby all night long while you sleep soundly.
Nanny in Paris : baby sitter for a wedding
In the movies, and even in real life, children without supervision during a ceremony, it makes mischief. This is where the concept of wedding baby sitters was born. He or she will take care of the children during the whole party. Thus, young and old will keep the memory of a pleasant moment.
Smart babysitting: Kidlee babysitters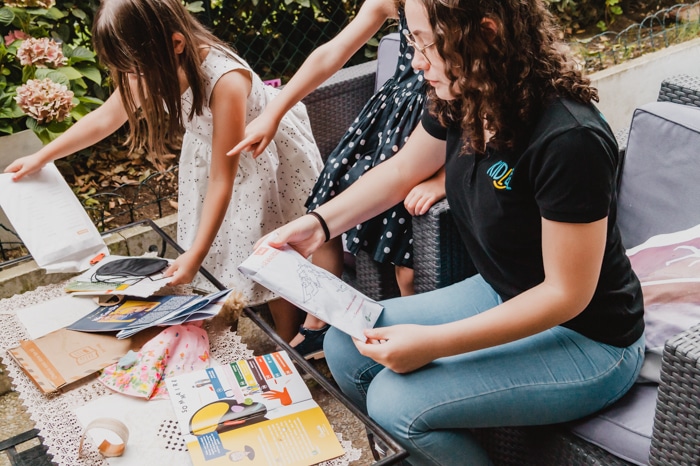 Smart sitting is a concept made by Kidlee. It encompasses much more than just childcare.
The entire team is dedicated to thinking, creating, training and managing in a smart way. And this, in order to offer you the most practical and efficient childcare services.
Specialized in childcare for children over 3 years old in Paris and Ile de France, Kidlee has been working for 2 years now to offer a flexible and non-binding service to facilitate the life of parents and baby sitters.
For us, the word "smart" is a motto!
Bilingual, sporty, artistic or specialized in homework help, our babysitters are also trained in the best practices of childcare. This allows us to offer a wide range of profiles that meet the needs of parents.
To learn more about our candidates and our smart-babysitting concept, please write or call us! Our consultants will be happy to answer your questions. Find our contact information just HERE !