Whether you're a parent or a babysitter, it's true that it's not always easy to keep kids busy on rainy days. Indeed, bad weather doesn't inspire a lot when it comes to activities and games to improvise at home. And let's face it, we've quickly run out of board games and indoor playgrounds... But don't panic, Kidlee specialist in playful childcare, flies to your rescue with a nice selection activities to do with children on rainy days. Follow us, it's this way ! 
Playful childcare: our selection of activities to do with children during rainy days : 
Hot chocolate workshop/bar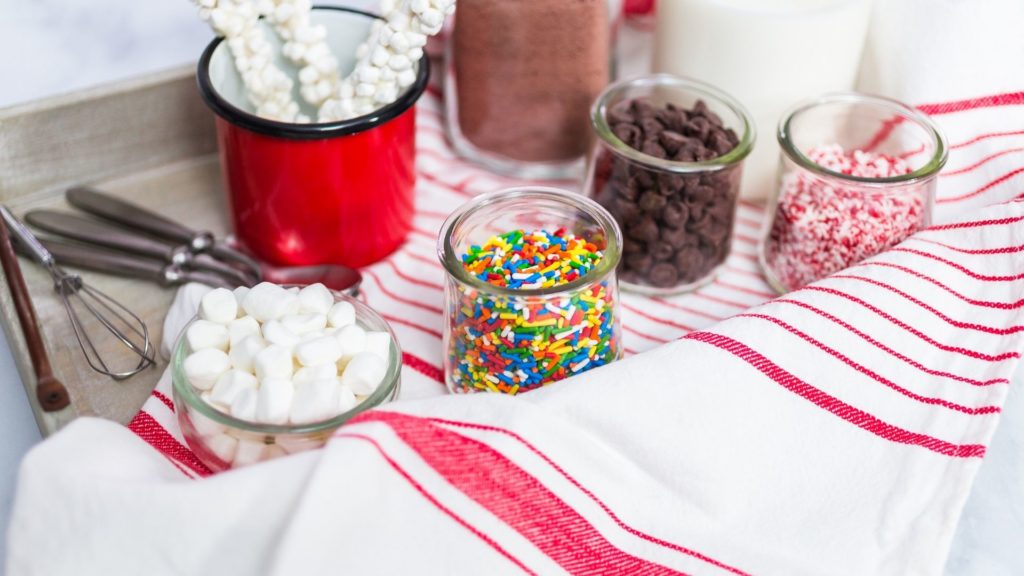 An ideal activity to do on rainy weekends with your family or baby sitter. Improvising a workshop or a hot chocolate bar with the kids is super simple. First, just prepare the hot chocolate with the kids. Then, provide the children with sweets and toppings (marshmallow, whipped cream, chocolate chips...) and let their imagination run free to create delicious hot chocolate!
An obstacle course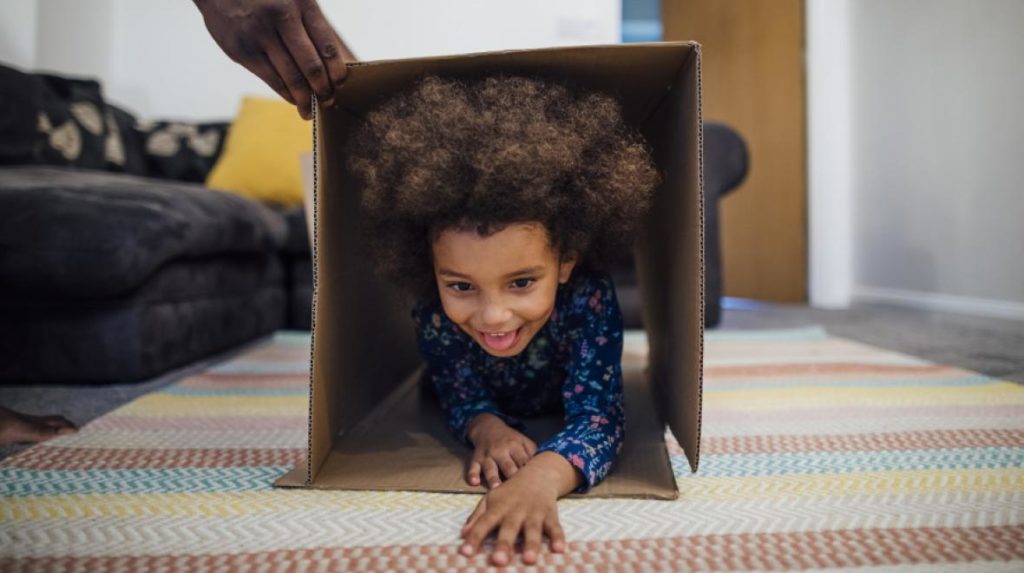 What better way to keep kids entertained and moving than with an obstacle course? You can make an obstacle course out of cushions, boxes and furniture. If you have a hallway, it would be nice to stick ribbons, ropes or strings on it and let the kids go back and forth without touching the obstacles so that they can exercise their joints. In fact, the obstacle course is a great gross motor exercise.
Playful childcare: build a tree house or a castle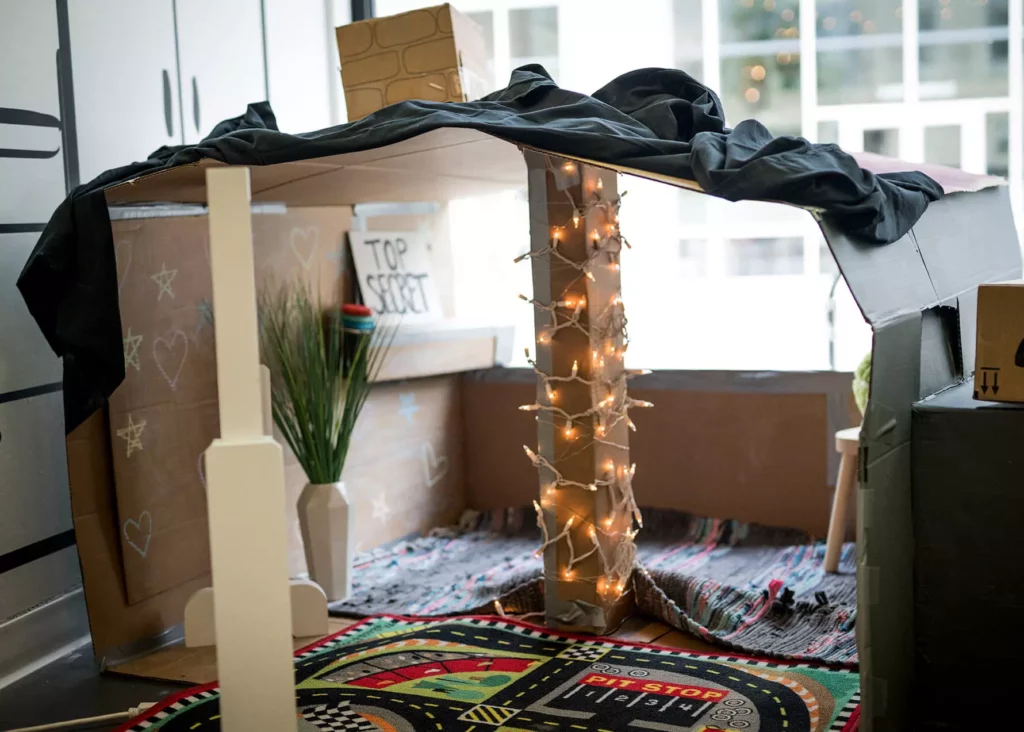 Among the best activities to occupy children when it rains, we find the famous tree house. Cardboard, cushions, sheets, chairs, you certainly have the necessary material for this fun activity. Imagine together a great tree house or a castle to build. To go further, you can provide each child with a sheet of paper and a pencil to list their materials and draw their cabin. Who knows, maybe this activity will awaken some budding architectural talents?
A classic of childcare fun: the salt dough workshop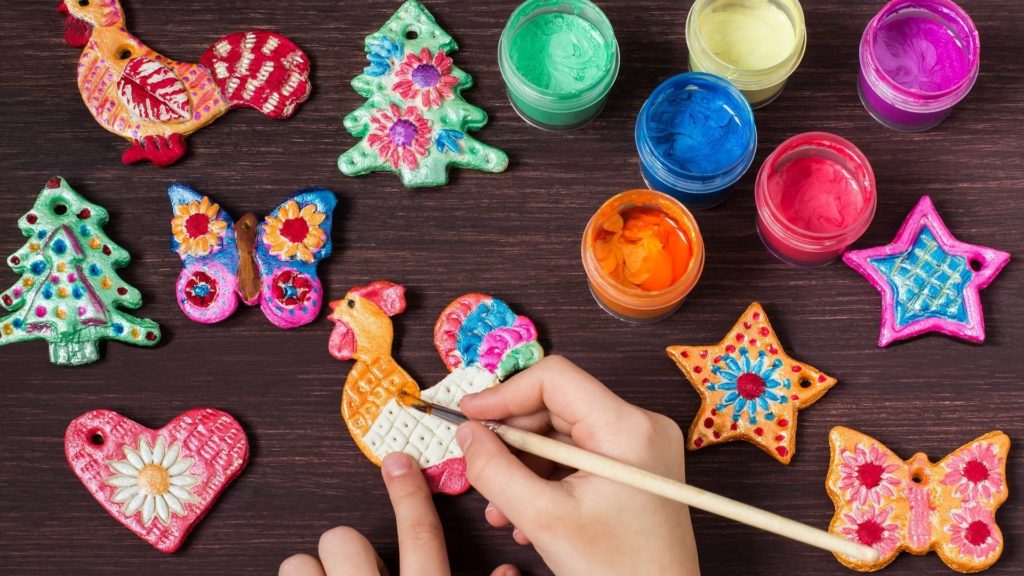 Classic, but above all the holy grail of manual and play activities. The salt dough workshop is always a great success with children. Why not enjoy it without moderation? In addition to stimulating the creativity of the youngest, salt dough works on their fine motor skills. To make your own salt dough workshop, find a recipe tested and approved by our baby-sitters as well as some great creative ideas in our article : initiation and salt dough workshops
Organize a fashion show and why a play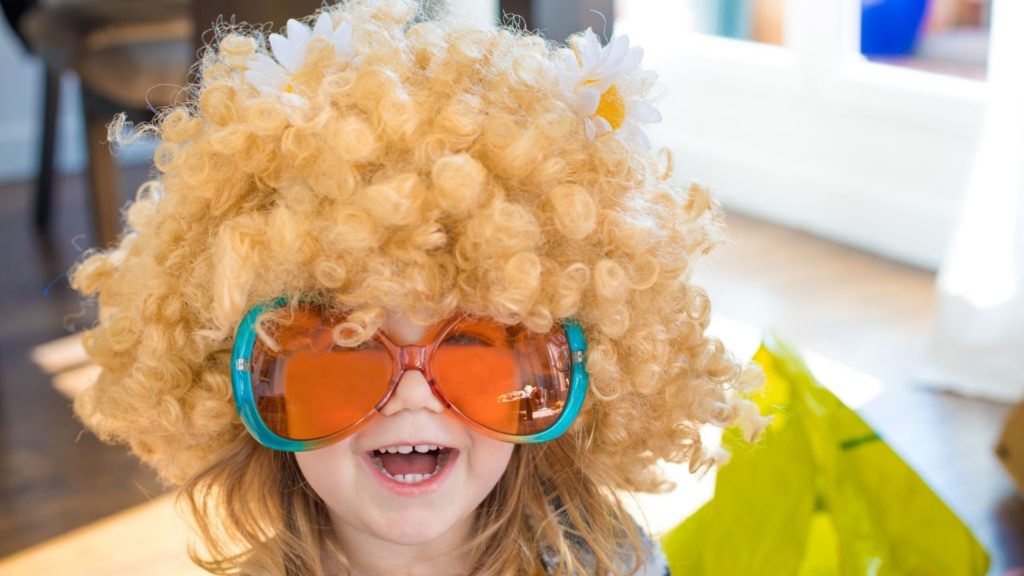 This is an imaginative activity that promises lots of laughter and fun. Start by explaining the principle of the fashion show to the children. Then, give each child a theme to spice things up a bit (yes, you can have fun too!). Once the themes have been assigned, set a time limit together and let the children dress up with whatever they can get their hands on.
To go further, you can even suggest that they create funny masks. Once everyone is dressed up, you choose the music and start the show. Don't forget to film all this and to make some nice shots. Finally, after the parade of stars, you can improvise a play inspired by the costumes that the children have made. Want to know more about how to introduce kids to theater? Check out our article : First steps in theater: 10 great mini-games for kids!
Making up stories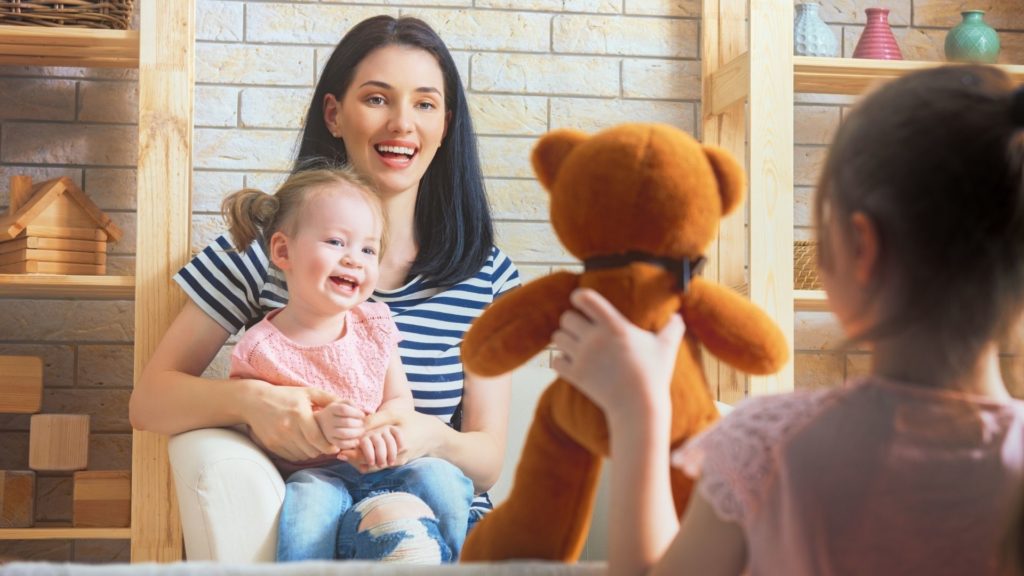 All you need for this fun activity is a sheet of paper for each child, markers, figurines, toys or objects and a good dose of imagination. To get the children thinking, creative and imaginative, invite them to create a story line for their stories: the theme and the characters (their names, their functions...). Once this is done, we can sit back and admire the little ones telling their stories.
A rainbow hunt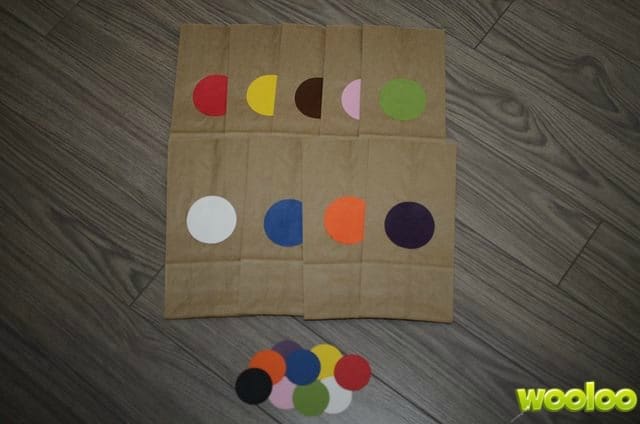 This ingenious play activity was taken from wooloo. To make it, you will need brown paper bags and cardboard or felt in different colors. To get started, the child will have to randomly pick out colored pellets and take the bags that correspond to them. Once the child has the dots in hand, the rainbow hunt can begin. They will have to go through all the rooms in the house to find an object corresponding to each color. After finding an object, he/she puts it in the bag and moves on to the next color. The game ends when a player has successfully filled all of his bags.
Doing science experiments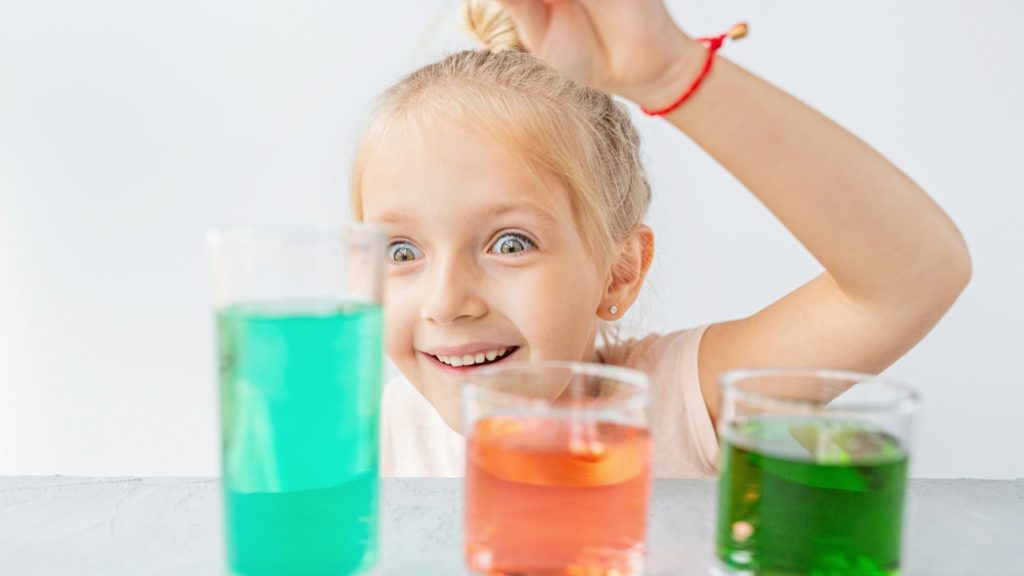 There is no need to remind you that, in addition to learning, experimentation activities always provoke a wow effect in children. And that's why, at KidleeWe love it! Our babysitters regularly offer fun science experiments during their in-home childcare.
There is a wide range of experiments that you can do with your children. In addition, this kind of activity often requires very few resources. Bicarbonate, food coloring, toothpaste, water, oil... In short, you already have the necessary ingredients at home. Discover several experiments to download for free on the magazine's website Yippee, I got it just here. Otherwise, you have a great YouTube channel, very popular with Kidlee sitters, The labDabwhich is full of fun science experiments to try out with the kids.
Opting for Kidlee Playful Childcare:
Startup specialized in smart-baby sitting and school outings:
Existing for 3 years in Paris and Ile-de-France, Kidlee is a startup specialized in the smart-baby sitting, an innovative childcare concept, focused on the child's development and promoting playful learning.
Aiming at developing and boosting all the child's skillsKidlee is inspired by certified methods such as Montessori pedagogy. With the main objective of transforming childcare hours into playful momentsKidlee offers an adapted accompaniment that allows children to flourish with qualified baby-sitters.
Thus, our team makes every effort to recruiting quality and trustworthy sitterswho share their knowledge with the children (introduction to languages, bilingual care, homework help, art, play activities...).
In this sense, Kidlee offers different types of training courses for its babysitters to improve their custodial skills and keep them inspired and motivated all year long.
A headache-free babysitting: delegated and offered steps!
The Kidlee concept, presents no commitment and no research costs. You can therefore express your needs for playful care on Kidlee.com and we take over.
You are then offered profiles that match the your child's needsfor free! You can then choose and contact your favorite baby sitterall without commitment.
Playful childcareue and administrative :
Contracts, CAF aid, tax credit, invoices, Kidlee accompanies parents with dedicated assistance. Once you have made your choice, your Kidlee consultant will take care of all the administrative procedures related to your childcare.
At Kidlee, no additional costs or administrative hasslesyou do not pay that the on-call hours worked by your babysitter. We take care of the accompaniment of your babysitter, your administrative follow-up and the sending of your invoices.
Are you a parent or babysitter and would like to know more about Kidlee Babysitting? Don't hesitate to write or call us! Our consultants will be happy to answer your questions. Find our contact information just HERE !