Christmas is fast approaching! It's time to start decorating the house to get into the Christmas spirit. And what better way to prepare for the big day than to make Christmas decorations as a family? In a totally green spirit this year, the team Kidlee is all about recycling Christmas decorations and shares with you 10 great and easy DIY ideas. What to recycle old objects and give them a second life during the holidays!
Christmas village in recycled bags:
If you have paper bags piling up in your closets, this is your chance to recycle them into a great salvaged Christmas decoration. To make this beautiful Christmas village, all you need is paint in holiday colors, scissors, red or green tape and glue. The icing on the cake, these bags transformed into houses can be used as packaging for your Christmas gifts. A gift village, original no?
Find the details of the realization on Etsy
A recycled Christmas ball
If you have old light bulbs waiting to be recycled, now is the time to get them out! You can turn them into great snowmen and blinged-out reindeer to hang on your tree. For the snowman, all you need is decorative paint, felt or polymer clay, fishing line, glue and markers! To make shiny reindeer, you'll need glue or spray adhesive, lots of glitter and accessories to make the eyes, nose and horns of the queen.
Find the tuto of realization on creative idea and Darr to be different
Paper garland : 
Here is a great idea for decorating with your family and from old newspapers, magazines or used book pages. To make this decoration, you will need very little. Newspaper, glue, thread and that's it. Your little ones will love to indulge in this relaxing activity that is folding. You will have understood, for this DIY you will have to fold in accordion 3 pieces of papers with equal sizes then to stick them side by side to form a star. Then glue the string to make a suspension and your decoration is ready to be hung. For details on how to make a star, just click here . For more inspiration, find other ideas on Pinterest
DIY SNOW GLOBES: 
Aren't these personalized snowballs beautiful? And guess what? You can make them with whatever you have: glass jars, old aquarium, candy box, miniature toys, foam... The most important thing is that you and your little tribe have fun making them. To do this, you need glass containers, miniature figurines to pick from the toy bin of the kids or to make, foam and glue. You can also decorate the outside of the containers with glitter, stickers or paint with everyone's initials.
Find the details of the realization on Think.Make.Share
Garlands for sale : 
In the category DIY in 3 minutes top chrono, discover the garlands emporte pièces. You know, those molds and cookie cutters that we proudly collect in our kitchens, can be a great decorative alternative during Christmas. The best part is that you can even reuse them to make cakes after the holidays and put them back in their drawers. All you need to make these ornaments is some yarn and glue.
Find more details The diy dreamer
Keys in Christmas decoration recovery : 
Source: Pinterest
In the same spirit as the coin holders, it's old keys that can be used as Christmas decoration to hang on the tree. To do this, you just need paint and red ribbons. All you have to do is select the keys you don't use, paint them and then hang them with ribbons on your tree. To take it a step further, you can even turn your keys into little characters like Santa Claus or Olaf. Nice, isn't it?
Christmas decoration : Canned reindeer : 
Here's a great idea for recycling your cans. Get your little ones to help you make some cute Santa reindeer. To make these, you'll need brown spray paint, glue, eyes, pom-poms for the reindeer's snouts and small tree branches to serve as horns. Once the cans are painted, let them air dry and then glue the ornaments to them to make Christmas characters.
Find the details of the realization on You Brew My Tea.
Paperbagg snowman: 
We love these snowmen like no other! Forget about wrapping paper. This year, they'll be hidden in great snowmen! To make them, all you have to do is recycle your old paper bags. Between us, we all keep them for a second use but we never do anything with them. So here's your chance to reuse them!
Find the details of the realization on Crafty Morning
Snowy pine cones:
Did your little wolves pick up pine cones on their last trip to the park? How about making them into miniature Christmas trees? All you'll need to turn the pine cones into Christmas trees are: corks, a set of wooden letters, a glue gun, white multi-purpose paint and a brush. Then just follow the tutorial of Modeling Head for the realization!
Find the details of the DIY just here !
Cork trees: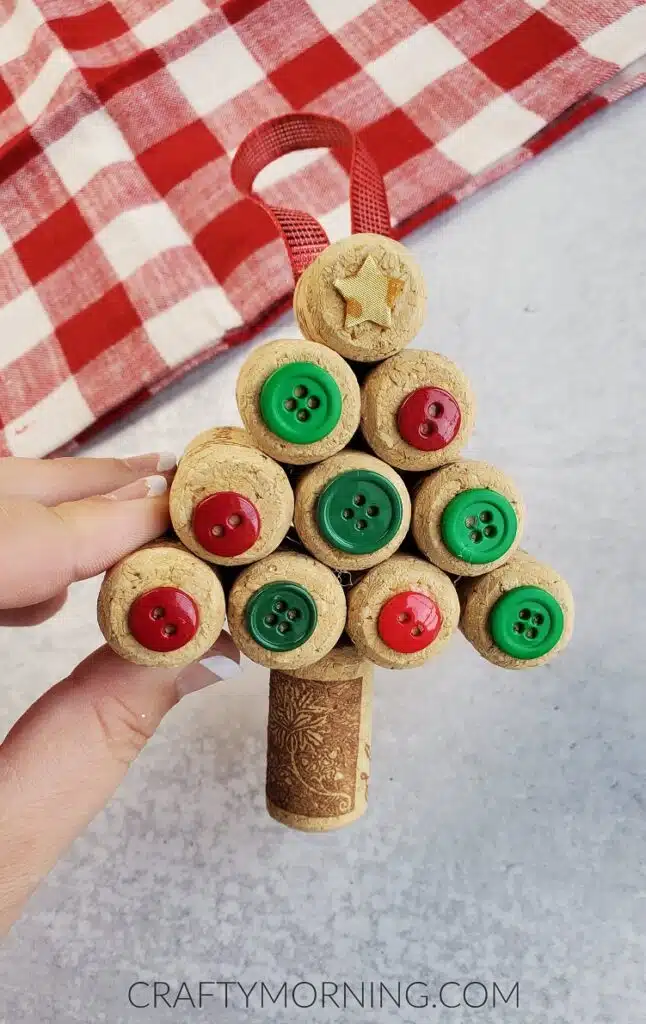 Here's another idea for miniature bunnies to make, but this time in cork! These adorable little trees are super easy to make. All you need are corks, buttons of different colors and hot glue. These reclaimed ornaments will be perfect to decorate your mantelpieces or your Christmas table. You can even hang them on the tree!
Find the details of realization in video on Crafty Morning