Summer is finally here! And with it, comes the desire to move and do sports. Especially for the little ones, because we have to fill the empty hours during the vacations! And who says sport, necessarily says decathlon. Moreover, the definition of the word means 10 sports, under one roof, such is the motto of the sign. But going to Decathlon without having an idea beforehand of what you want to buy, is a bit like taking the risk of spending a lot of hours there. That's why kidlee has prepared for you the must-haves of the summer for your child at decathlon.
The trampoline from Decathlon for a child with a smile
We'll say it's the one and only little folly of this top. If you have some outdoor space and 189 euros to spare, it might be time to think about buying a hexagonal trampoline. 
A structure guaranteed 5 years and a stability to any test, guarantee you a durable, safe use at low cost, appointment here.
Anti-UV accessories
The anti UV suit - Nabaiji
Children need to get plenty of sun to get enough vitamin D. However, sunburn as a child is a recognized risk factor for skin cancer. In addition to sunscreen, don't hesitate to reinforce the protection with anti-UV clothing. That's why we advise you this wonderful combination available in pink and in blue.
Designed to protect from the sun and the cold, it protects from UV rays even when wet and ensures good thermal comfort.
Otherwise, still in the section anti-uv clothing decathlon, you can opt for a tshirt anti-uv decathlon and swimsuit for children.
Anti UV sunglasses - Quechua
Just like the skin, even a child's eyes are very sensitive to UV light. Therefore, if sunbathing or hiking is on the agenda, it is necessary to foresee a pair of sunglasses.
Thanks to the anti-UV lenses, 100% of harmful rays are blocked. Thus, your child's beautiful eyes will be safe.
The anti UV hat - Nabaiji
Designed to protect children's heads and necks from the sun during water and land activities. The chin strap keeps the hat in place while the child is active.
It is available in Prussian Blue and also in mint/magenta pink.
Decathlon sandals for kids on all terrains
Basically, these are sandals for the child who wants to cover his feet and avoid slipping at the edge of the pools. However, this ultra light model will make you want to put them on your child at home, at the pool and even in the park. So, here are an all-terrain sandal for 3 euros.
Decathlon aquashoes for children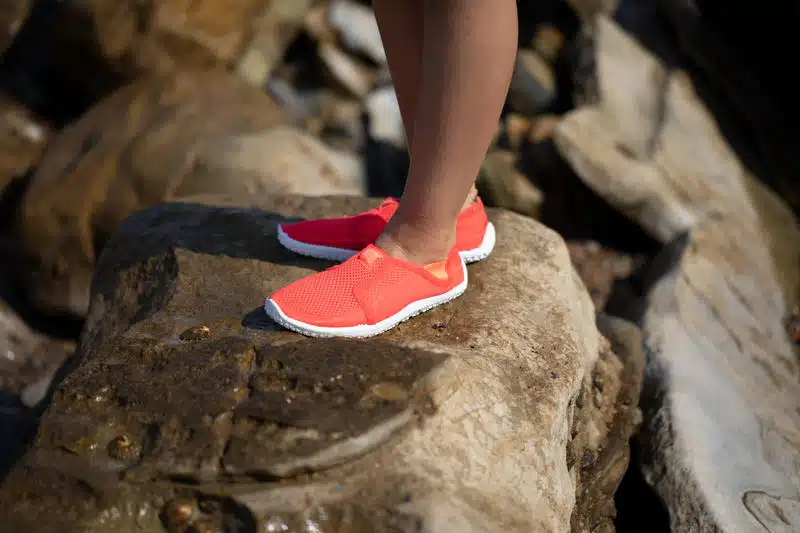 AQUASHOES 120
These Aquashoes can be put on in one move and limit sand ingress. Snorkeling will be a real pleasure.
AQUASHOES 100
They allow children to move around the beach, comfortably on the pebbles, rocks but also to discover the coastal seabed.
Jazzminton for kids by Decathlon
If the kids are fans of racquetball, they'll be ultra mega super happy (unless they expect a ping pong table). It is aboutan investment of 14 euros that can be played anywhere and anytime (even at night).
The red feathers are slow and therefore for beginners while the yellow ones are fast and therefore for experienced players.
What if you choose a scooter?
We are not going to lie, the scooter is a bit the new vogue. In addition to being trendy, it allows the child to exercise and ensures a quick trip. Also, if from a young age you accustom the child to economical means of transportation it will make him/her an eco-responsible adult in the future.
Because it was a little difficult to make a choice among all the scooters that Decathlon offers. We let you manage by yourself like a grown-up, it's here.
The little word of the end
Don't forget that all these summer must-haves can be bought second-hand. And this for the greatest happiness of your wallet and the planet.