The month of May is full of holidays to celebrate. However, it is not Ascension Day or Labor Day that the child looks forward to. But Mother's Day! The little one will be looking forward to this last Sunday of May to give a gift made with love to his mother. And you, as a great baby sitter, won't hesitate to offer him different Mother's Day DIY gift ideas to make. Kidlee is here to help you in this mission and has prepared 5 DIY / gift ideas for Mother's Day.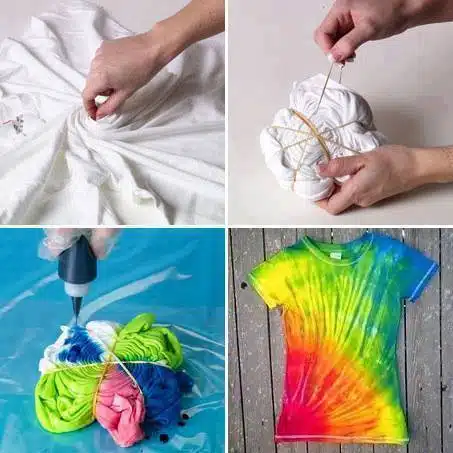 Mother's Day gift: DIY matchy-matchy t-shirts for mom and her offspring
With this little gift, you're sure to make a lasting impression. You will need a white shirt for mom and another one for the child. It doesn't matter if they are old shirts, because they will get a makeover. Also, fabric paint or acrylic, a container, string and a pair of gloves.
First of all, start by cheating the t-shirt in hot water and then wring it out. Next, lay the shirt flat and roll it from the center to form a ball. Then serve with a piece of cotton string or elastic in different places. Like, you need to segment the t-shirt into 6 slices like the ones on a pizza. From now on, you can start the festivities with the lightest color and let the child finish. Once the painting session is over, let it all dry overnight and that pretty gift will be ready!
A bouquet of flowers in no time
No, don't worry, this gift idea doesn't involve going to the florist or making a paper flower bouquet. However, you will need to have wool, yarn, a pom-pom making kit (optional as you can make your own), scissors, glue and wooden skewers to use as stems. First, you will need to make as many pom-poms as possible, as this is what will give the bouquet volume. Once the pompons are ready, they will have to be glued on the stems. The whole thing will be put in a vase that will be waiting for mom at the entrance when she comes back.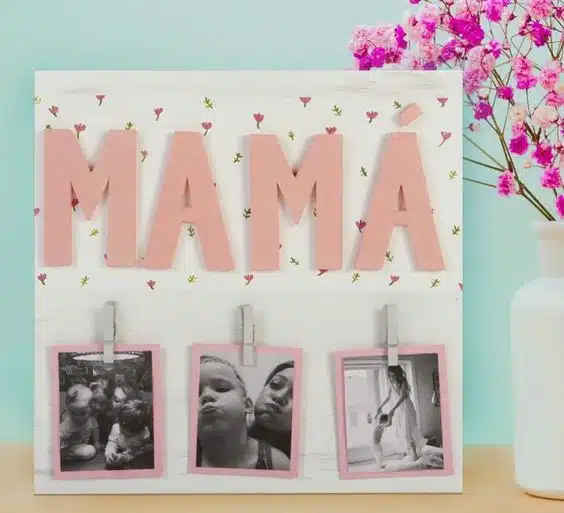 A photo collage in honor of Mom
For this DIY, you will need a support and family photos without forgetting scissors and glue. You can use paper, cardboard or a frame as a support. If the child is old enough, you can let him cut out the pictures in different shapes for more fun. Otherwise, you can cut out the pictures and he can glue them on. Finally, we add a cute sentence at the bottom to wish a happy birthday. If the child is old enough, don't be afraid to see things in a big way and suggest to him to do a novel–photo of the super mom!
The heartwarming jar, a DIY gift for Mother's Day that will not leave her unmoved
Among the homemade gifts for Mother's Day, this one might melt her heart. For this, you will need a jar that you customize with the child as you see fit and some scraps of paper. Ask the child what he likes to do most with his mom, what he likes about her and write it all down on paper. Finally, put all of this in the jar and close it. Don't forget to ask your siblings to participate, and even your dad. This way, it will be a festive gift that comes from the whole family.
A custom mug in his honor
First of all, a white mug is necessary. But also, special ceramic and porcelain markers or paints. Yes, only that! A quick, simple and effective Mother's Day diy to please at a lower cost. Regarding the customization, you have to let your child's imagination run wild. Also, while you're at it, don't forget to make a mug for super dad so you'll be ready in advance for Father's Day.