Robert Orben said, "Being on vacation is having nothing to do and having all day to do it." Except that if you're a baby sitter or parent, you can't say the same. On the contrary, you might even want to say that you need a vacation after the vacations! Well yes, taking care of children during the long summer months can be a real challenge. So don't panic, Kidlee is here and has prepared a top of activities for children to try during the vacations.
Make a campfire in the garden!
We take out the musical instruments or the wooden pots and spoons. And we put ourselves in circle around the fire. Finally, don't forget the marshmallow pack and the skewers. A real dream evening that requires the presence of an adult.
Activities for eco-responsible children who want to take care of the planet
Planting seeds
Did you know that? You can plant some fruits and vegetables in summer. For example: carrots, lettuce, cabbage but also tomatoes, lemons and strawberries.
Not sure where to start? Then feel free to read the practical sheets of "Savez-vous Planter Chez Nous who will explain to you how to plant, grow and even the benefits of the fruit or vegetable in question. Thanks to them, you will become a real expert in the vegetable garden and will be able to pass on this knowledge to your child.
Watering the plants
If the child is too small to help you with the garden, we have just the activity you need that will really make a difference! Get out the watering can and let him bring the garden to life. In the end, you can even turn it into a water fight.
An activity for children who miss school
At the beginning of the vacation, the child will mostly want to enjoy games and television. But it is not uncommon that a few days later, he or she will want to do math. At the same time, review is necessary to maintain intellectual gymnastics and prepare for the next school year. So, it may be time to go out and buy a vacation notebook. If you don't know which one to buy, Kidlee has prepared a top vacation notebooks to buy for your little one.
Outdoor activities for children
When the weather is nice and you have some free time, you have to take advantage of it right away. And so that you don't have to spend hours looking for activities to do this summer, we've prepared some ideas for outdoor games to do with the kids. On the menu, playful activities here, outdoor games to exercise there and even competitive games to be found by here.
Offer a scientific activity for children
During school time, the activities offered at home are usually fun. At the same time, time is short and the child has his or her dose of seriousness at school. However, during the summer vacations, you have plenty of time to prepare fun activities for the children. Besides, there is some time, Kidlee offered you 5 ideas for activities to do with children, easy to do, that combine fun and learning.
Activities for children: a family outing
Staying home and doing fun activities is fine, but not all vacation long. Take one day a week or even more to break the routine. The first time, you can go to the zoo with your family or to a movie session. Afterwards, you can also spend a day at an amusement park. By the way, if you haven't read our article on the top amusement parksIt's surely time to go and have a look at it.
Afterwards, you can also opt for a lunch on the terrace with the toddler, it's a good time to get back to normal life and enjoy the terraces.
A trouble-free vacation for kids and a hassle-free vacation for parents? Say hello to Kidlee!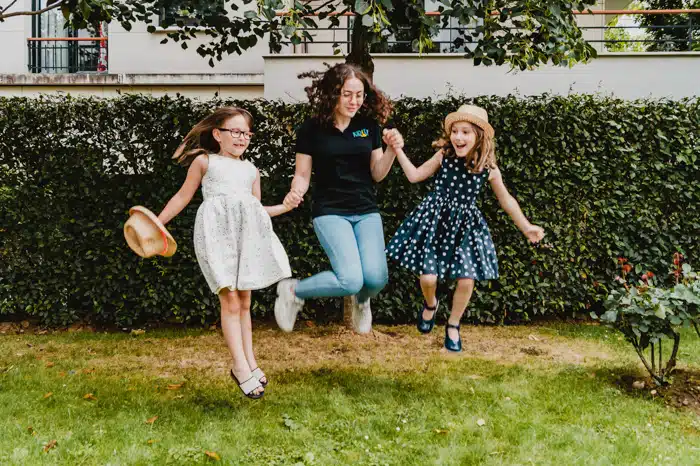 At Kidlee, we believe that it is important for children to feel good about themselves during childcare hours. That's why we support our great babysitters through various workshops, training and fun content. So that they can offer the best home childcare in their turn.
In other words, sign up with Kidlee (if you haven't already) and you'll have no shortage of resources to keep the kids busy while you babysit. To discover our universe, just click here !
Are you a parent and want to know more about Kidlee Babysitting? Then don't hesitate to write or call us! Our consultants will be happy to answer your questions. Find our contact information just HERE !