February 14th is coming soon! And what better way to celebrate love than on Valentine's Day, the holiday for lovers? In these hard times, a good dose of love will indeed do us a lot of good! For this purpose, the team Kidlee has conducted a little investigation and has found some real gems in terms of activities to celebrate Valentine's Day with your little ones. A Valentine's Day activity to express your love and have fun at the same time is already great. So imagine this with several Valentine's Day activities and crafts to enjoy with your little ones to celebrate love and express the most beautiful feelings to your loved ones!
Valentine's Day coloring for the youngest but also for the oldest:
First the little ones! Valentine's Day activities for kindergarteners mean Valentine's Day coloring too! Whether it's with paint, markers or crayons, little ones love to color. So why not combine one of their favorite crafts with Valentine's Day. To do this, you will find great Valentine's Day coloring pages to print at Hugo the snail  and of course on Coloriage.info. 
At Kidlee we think of the little ones but also of the big ones, even the very big ones for Valentine's Day. And yes, you too dear parents and you dear babysitter, can also indulge in this relaxing activity that is coloring. On Modelling headYou will find Valentine's Day coloring pages for children but also for adults. You know, coloring type mandala that we love so much! So all you have to do is to help yourself by clicking just HERE !
To download Hugo the snail's Valentine's Day coloring pages click HERE . 
In order to download the Valentine's Day coloring pages from Coloriage.info it's just Here ! 
Valentine's Day activity: the heart catcher craft for children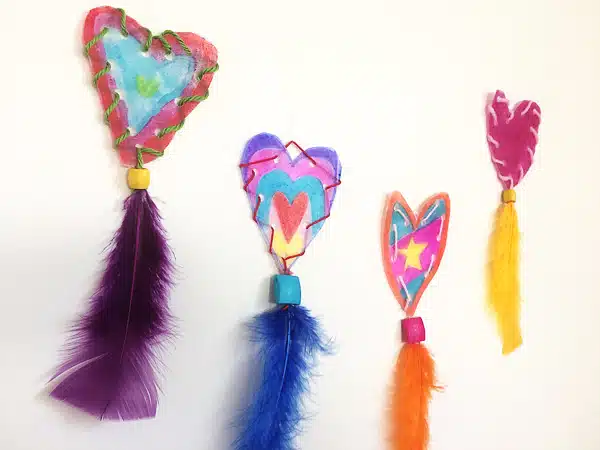 After the dream catcher, the site child.com offers you the heart catcher with this great Valentine's Day craft. A kids diy ultra simple that is made with beads, feathers and embroidery threads. Finally a marvellous piece to please your lover or simply to hang in your room! 
For the detailed tutorial just click HERE !
Valentine's Day card to make : The penguin-valentine or the panda-valentine, the choice is yours!
How can you not fall in love with this penguin and panda full of love? The icing on the cake for this Valentine's Day craft: the blog Simple everyday mom, offers you free templates to print! So with the right material, it is impossible to miss these little wonders!
Find out : the DIY penguin HERE  and the tuto panda HERE. 
Valentine's Day activities by mômes: our favorites! 
How can we talk about crafts, crafts for kids or manual activities for children without mentioning the fabulous site MÔMES? As always, Kidlee's editors fell in love with the site Valentine's Day activities for children signed MÔMES. Here are our top 4 favorites! 
Valentine's Day activity: a valentines day plane to say I love you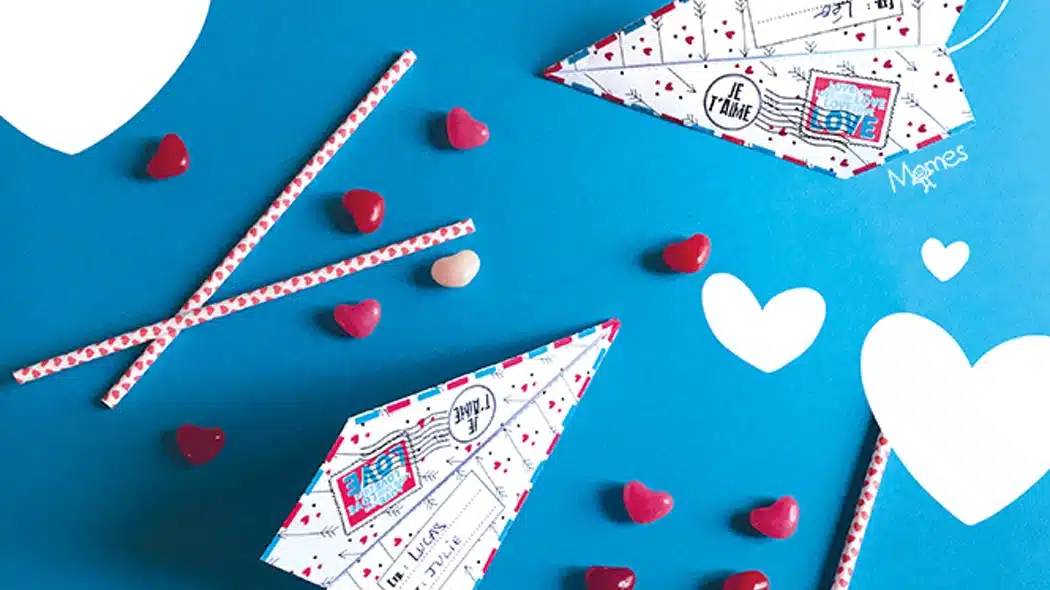 First of all, we start with the plane that says I love you. With this superb Valentine's Day activity, Momes proposes to create a love plane to say I love you to your loved one. To realize this activity idea, the site provides you with a plan to download and print for free. Then, all you have to do is follow the folding steps and it's done. Your little ones will have something to impress the gallery with this beautiful Valentine's Day gift. 
For the tutorial, click HERE !
Valentine's Day activity: I love you cards in all languages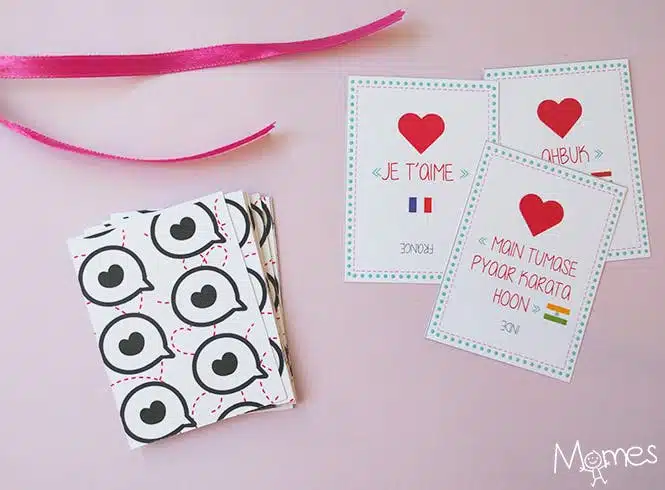 Then, here's something to spend a great time with your family. A love quiz that combines love vibes and learning. Momes provides you with the game as a free download. All you have to do is cut out the Valentine's Day cards afterwards. 
The site also explains how to play it in two ways:
First, the first way to play is to read the sentence and try to guess the country with the children.
Then, the second one, consists in reading the country and trying to find the sentence to say "I love you" (that is to say when we will have played enough to the first version to have retained a maximum of sentences.
For details of this Valentine's Day activity, click HERE !
Valentine day craft: the ribbon of hearts card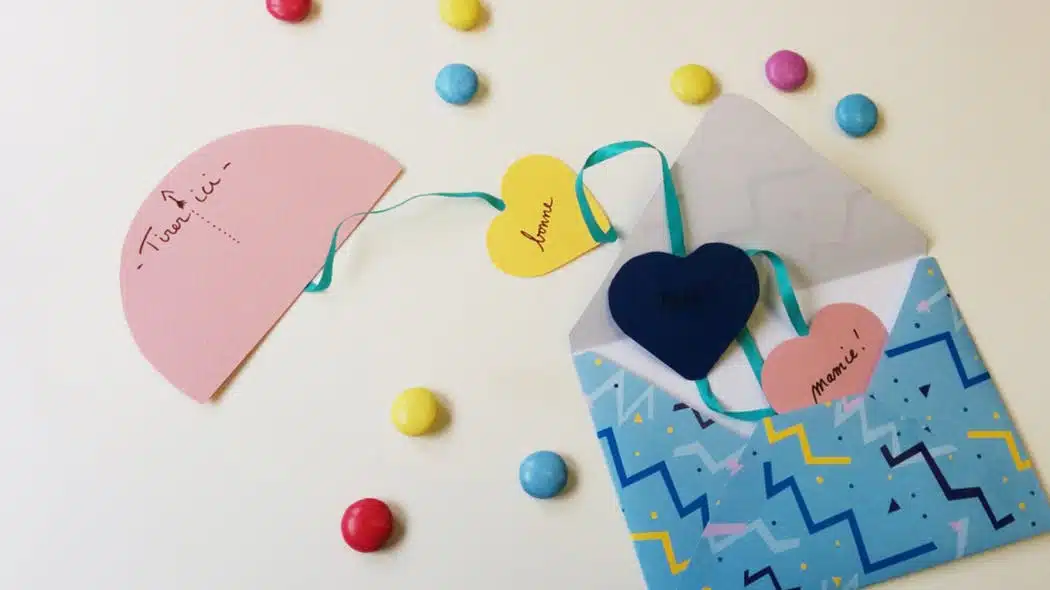 This pretty card proposed by Momes is an all-rounder! In addition to being original, it can be offered on several occasions: Mother's Day, Valentine's Day or even for grandparents' Day. To make this Valentine's Day activity for children, all you need is an envelope, red ribbon (preferably), colored paper, scissors for the shape of hearts, stickers and tape. 
Find the right tuto HERE ! 
Unanimous Editor's Choice: Cupid's Bow and Arrow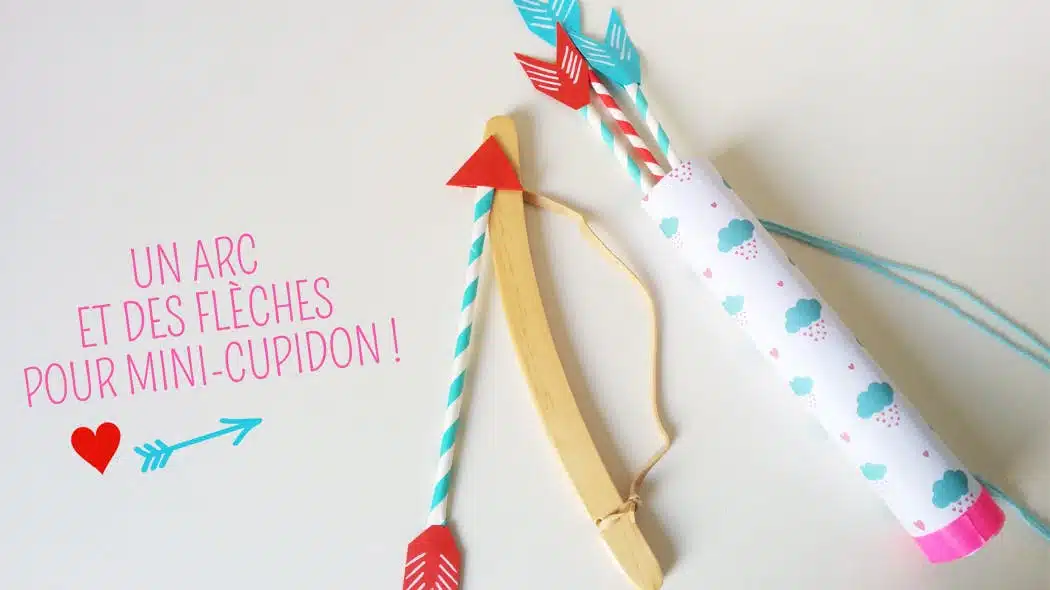 And finally, in this selection of Valentine's Day activities for kids, we obviously left the best for last. Thus, Momes offers you a Cupid's Bow. They are strong we told you! 
With this Valentine's Day activity, your little ones will be thrilled because they will be able to play Cupid, isn't that great? 
For details on this easy-to-make craft for kids, click HERE !
Kidlee's note:
So, on these beautiful notes of love and to conclude this article, the whole team Kidlee Wishes you all a wonderful Valentine's Day! ❤