It is often said that learning a new language is like having an extra window through which to contemplate the world. At the same time, being bilingual or even trilingual makes life much easier, especially for frequent travelers! In addition, it is an undeniable asset for your professional career! And as for all languages, the sooner you start, the better! Even if there are several ways to introduce a child to a new language, the first contacts with the language are always quite delicate. That's why Kidlee has prepared 5 ideas for activities in English to introduce children to the basics of the language of Shakespeare.
Tall or short ?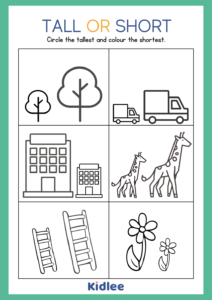 Here is a manual activity but in English, to kill two birds with one stone. The principle is quite simple. Just ask the child to circle the largest object and color the smallest. For each object, you can ask the child the question "Which one do you think is the smallest?
My cat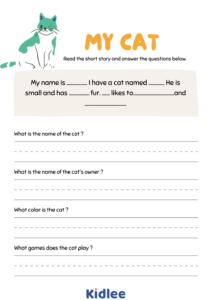 If the child has a pet, bingo, this is the activity for you! Even if his name is My cat, many variations can be imagined. For example: My dog, my fish...etc. For my cat, there are 4 questions that the child has to answer in order to form a text with whole sentences. Playing this game allows children to develop their English vocabulary.
An English activity for space fans - Into the space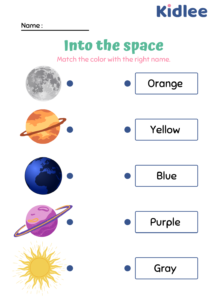 Among the first words of a language that we learn, we find the colors! But how to make sure that it is not "boring" for the child? We suggest you the theme of space! The child will have to associate each color with a planet.
An activity in English to prepare for the vacations - My dream holiday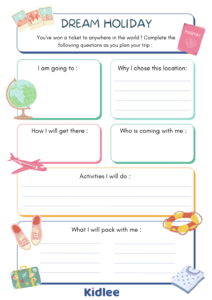 Soon it will be time for the vacations and the children's impatience will be well felt! How about helping them plan the vacation of their dreams? To do so, we suggest a simple card with different questions such as: Where am I going? Who is coming with me? And many other questions about this dream planning! The child can write his answers on the card but if he is still a novice, the activity can be done in a verbal way to develop his oral comprehension.
Time to move
Learn English and anatomy at the same time, here is a 2 in 1 activity! Here, the child must name the different parts of the body in English! Then, you can vary the level of difficulty by moving on to the skeleton for example!
Bilingual childcare is life
At Kidlee, we also offer bilingual babysitting as part of our playful babysitting. Thanks to our Montessori inspired training, our students are on the attack every day to help children progress through an innovative childcare service. They are able to offer rich and diversified activities without running out of ideas, while helping them to progress in their chosen foreign language.
Some Kidlee profiles can even teach English to children, depending on the level desired.
Psst, you want to be a baby sitter? Then sign up with Kidlee (if you haven't already) and you'll have no shortage of resources to keep the kids busy while you babysit. To discover our universe, just click here !
Are you a parent looking for that rare English-speaking gem?
Choosing to hire a qualified babysitter for your children will allow you to be serene on a daily basis. A bilingual babysitter can bring a lot to your protégés. Thanks to our selection of candidates based on their profile, experience and motivation, the quality of their services will be guaranteed.
Would you like to know more about Kidlee babysitting? Do not hesitate to contact us to write or call us !