Dear super parents, you have just taken up the challenge of the new school year with brio, there is something to be proud of. Oops, we hear that you forgot to look for a nanny! But then, who is going to take care of the children on Wednesday afternoon, after school or to take them to extra-curricular activities? Nowadays, nannies have become almost indispensable for parents. If you're feeling stressed, take a deep breath. We've got the solution to finding the perfect nanny in no time. Don't panic, Kidlee is here!
How to find a nanny with Kidlee?
Did you know? Finding a baby sitter has never been easier or faster than with Kidlee. And here's why.
A profile created in two clicks
If you're a parent, you don't have time to waste and we at Kidlee know that. That's why we make it easy for you to register. Once the registration is complete, a requirement will be created.
Super advisors who do everything to find the best nanny
Once your need is created, our consultants will contact you to find out what type of babysitter you really need. For example, a babysitter for school outings, a bilingual babysitter or an artistic babysitter. After your expectations are well noted, the search is launched. Then, a short list of profiles corresponding to your request will be pre-selected and sent to you so that you can choose the rare pearl.
And it's validated!
Yes, we are on the third and final step. Now that you've found your great baby sitter, Kidlee takes care of everything else.
8 reasons to give Kidlee the "find a nanny" job
At Kidlee, we offer you smart-sitting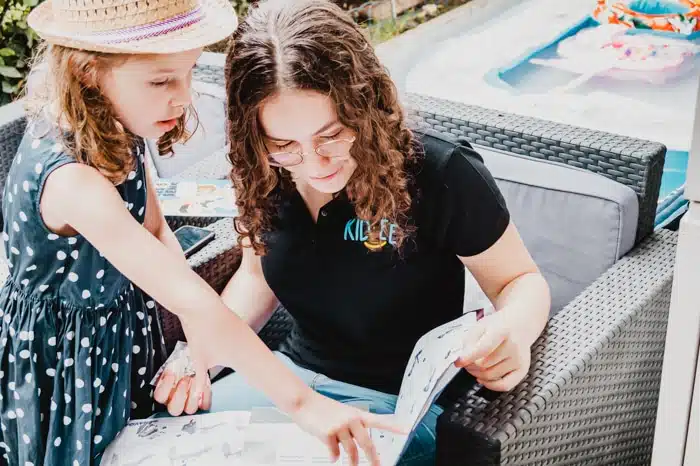 Here, we offer more than just childcare. Whether you need to combine babysitting with learning a new language, babysitting with arts and crafts, or babysitting with a theater workshop, Kidlee is there.
Bilingual, sporty, artistic or specialized in homework help, our babysitters are also trained in the best practices of childcare. This allows us to offer diversified and quality profiles, corresponding to the needs of the parents.
Find a verified and qualified nannye
Thanks to a selection of candidates according to their profiles and their motivations, we ensure you the perfect match. This way, you will be able to have confidence and remain serene about having your children looked after.
A service that covers all of Paris & Ile de France
Specialized in childcare for children over 3 years old in Paris and Ile de France, Kidlee has been working for 2 years to offer a flexible and non-binding service to facilitate the life of parents and baby sitters in Paris and Ile de France.
Fun content for rewarding shifts
With the objective of accompanying the child in his or her daily development and awakening, our babysitters offer various games, workshops and fun activities according to the tastes and needs of each child for the development of each one.
Moreover, we support our speakers with content and resources via our blog, our newsletters and our Instagram accounts. So that our babysitters, but also the parents, are never short of inspiration when it comes to occupying the children and accompanying them in their daily learning.
Babysitting with 0 administrative hassles
With Kidlee, you can hide your calculator and printer! Say goodbye to all the administrative hassles, charges and financial calculations. We offer a fairly priced solution for parents and babysitters alike. And that, while taking care, free of charge, of the administrative support of the families as well as that of our caregivers!
Childcare from 5 euros / hour
No, you're not dreaming, it's the Kidlee rate. Of course, this is after deduction of financial aid and tax credit.
Kidlee is committed to environmental protection
If you want to know more about our actions for the planet, go to here.
Then, find our coordinates just HERE !