Soon the return of a long awaited period for the young and old. This last one makes the joy of parents and babysitters, because it is the only period where children can really find what they are looking for, thanks to the egg hunt. And it also makes the kids happy, because they eat chocolate without limits. Do you know what we're talking about? It's obviously Easter! And because at Kidleewe doesn't like to do things by halves, even less when it comes to chocolate! Today we're giving you some DIY ideas to do with the kids to have the best Easter chocolate!
Great chocolate bunnies to chew on
For greedy bunnies, you will need plastic soup spoons, dessert chocolate (white, dark or milk chocolate), sugar eyes (chocolate chips will do), sugar balls (for the nose) and Mikado cakes.
Start by spreading out the spoons on your work surface. Don't forget to make enough of them! Next, prepare two bunny ears per spoon. Melt the chocolate in a double boiler or microwave and using a teaspoon, top your plastic spoons.
Now it's time to play Mr. Potato Head! For those who don't know Mr. Potato Head, it's time to add two eyes, a nose and ears. All that's left to do is let them cool for a few moments and they'll be ready to eat!
Easter chocolate: more Easter bunnies
For this tutorial, you will need macaroons, wooden picks and colored paper. Yes, just that! First, you'll need to cut out the ears of Mr. Rabbit. Finally, all you have to do is bring him to life. To do this, insert the wooden pick in the middle of the macaroon and glue the two little ears at the top, making sure to insert them at the level of the ganache so that they can hold.
Vanilla Easter chocolates without milk:
For this delicious recipe signed Kitchenazyou will need :
60 grams of cocoa butter in pieces
45 grams of powdered sugar
15 grams of almond powder without the skin
1/2 tsp. vanilla powder
1 tbsp. Cacao (for a dark version)
The preparation of these chocolate treats is very simple, just melt the Cocoa butter in the microwave in a bowl (slowly, 30 seconds by 30 seconds stirring each time). Then mix in the sugar, vanilla and almond powder. Add the liquid cocoa butter and mix well. Pour the melted chocolate into silicone molds (hearts or small eggs) and refrigerate for 1 hour. Turn out your chocolates and enjoy! For a dark chocolate version, add cocoa powder to the preparation.
Find lots of chocolate recipes for Easter proposed by CuisineAz just here !
Chocolate spheres
For this fun and delicious DIY, you'll need 500g of chocolate (choose according to your taste), ice cream, candy and balloons!
First, inflate as many balloons as you want to have spheres. In a bowl, you will have to melt the chocolate, in the microwave or in a bain-marie, the choice is yours. Choose a support that supports heat, either cookie sheet or oven tray. On the latter, place a small amount of chocolate to have the base of your sphere. Then, dip a balloon in the melted chocolate and place it on the base and your sphere starts to come to life. You just have to do this again until there are no more balloons! After that, don't forget that the chocolate needs to cool down. So, put your holder in the fridge until the chocolate is firm. Now comes the fun part, popping the balloons!
Then, to finish, all you have to do is place a scoop of ice cream and sprinkle with candy. Of course, you are free to change the filling of the spheres!

Chocolate Easter nest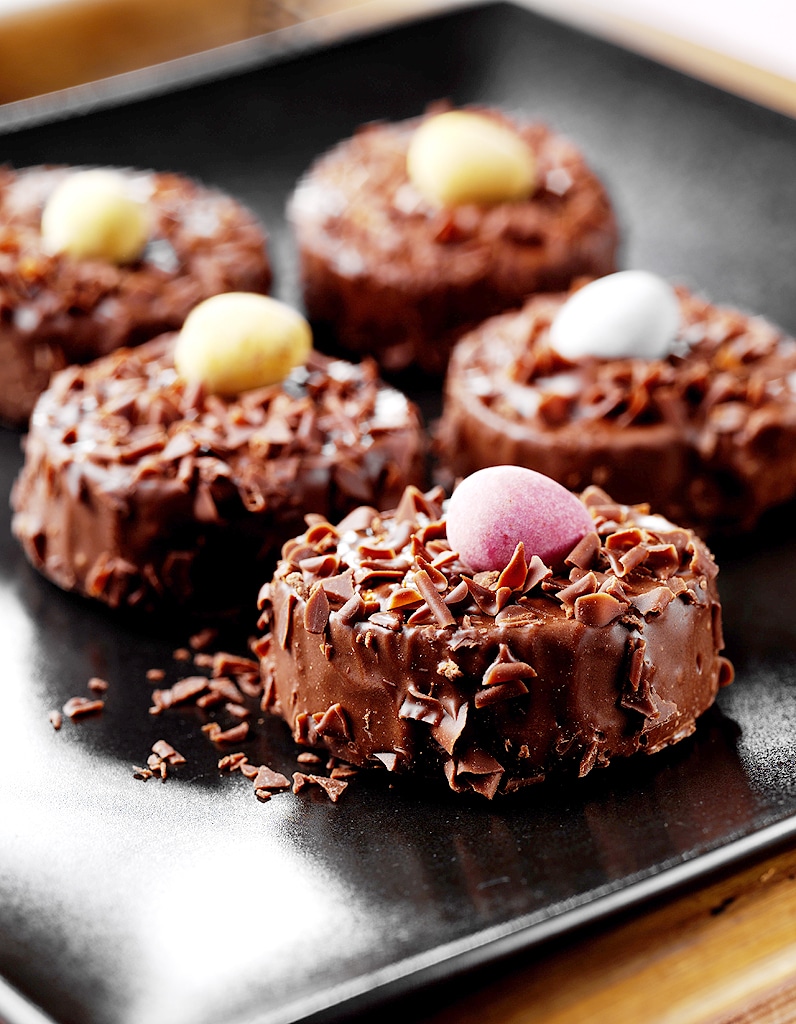 For this great recipe from She at the table you will need :
300 g of dark chocolate
6 gelatin sheets (12 g)
2 whole eggs
4 yellow
150 g powdered sugar
40 cl of liquid cream
1 sachet of vanilla sugar
3 tablespoon(s) of cocoa
Easter eggs for decoration
PREPARATION
Soften the gelatin sheets in a bowl of cold water. Melt the broken chocolate in a double boiler.
Dissolve the gelatine leaves in 3 tablespoons. tablespoons of hot water and out of the fire incorporate them into the melted chocolate.
Whisk the whole eggs and yolks with the powdered sugar until the mixture is white. Mix this mixture with the melted chocolate.
4.whip the cream into a whipped cream (but not too much so as not to get butter) and sweeten it with the vanilla sugar.
Gently fold the whipped cream into the chocolate mixture in 2 or 3 batches.
6. line a 22-24 cm diameter ring mold with cling film and pour in the mixture, then smooth the surface.
Place in the freezer for 1 hour to accelerate firming and then place in the refrigerator for 4 to 5 hours.
8) Before serving, turn the pan upside down on a plate and carefully remove the film.
Using a sieve, spread the cocoa over the entire surface of the cake and decorate with the Easter eggs.
Zero Waste Easter Chocolate
In the title, this may seem like an impossible mission, but this challenge was brilliantly met by cel at the table. And here are the 3 guidelines to be able to succeed in this challenge in your turn:
Make your own chocolate or buy it in bulk from a good chocolate maker.
Put the chocolate in homemade and/or reusable and/or compostable containers to hide. For example, in small glass jars, paper or cloth bags, etc.
Hide painted/decorated Easter eggs or pebbles and give chocolate eggs in exchange.