The vacations are finally here! So, goodbye school and hello sunshine. We are full of activities but this does not mean that we should forget about revisions. Well yes, in two months, the child can forget what he learned during the year. That's why Kidlee has put together a list of the top kindergarten vacation notebooks to print. Whether you're a great parent or a great babysitter, you'll find THE perfect kindergarten vacation notebook for your little one here.
Why do we love it? It's free, simply downloadable and customizable! On the first page, the child will write his name, his age and draw a picture of himself. Then, he will discover writing, math, French, history and geography exercises. There are even drawings and riddles.
This online vacation book is full of fun and is the result of the wonderful independent graphic designers who created it. It is designed to entertain children from 3 to 7 years old. You'll find coloring, puzzles and finally an instruction manual to make a cow that moo.
The notebook is written around a common thread, Manon and Lucas' vacation in the countryside. If you want to initiate the child to the protection of the environment, this notebook is an excellent choice. It is made of 11 funny games but that's not all! Special mention for the Bizz section of the bee in which the bee gives advice on how to take care of the planet.
This booklet is a real treasure trove for kindergarteners. It contains difference games, magic coloring, mazes, shadow games, observation games and logic games to keep your child entertained for hours.
This is the only one of the top books that is not free. You will find it in bookstores at the price of 6,95 euros. This workbook offers many activities directly inspired by the Montessori pedagogy. For example, learning, skill and curiosity will be at the rendez-vous.
The child will be able to prepare for writing and reading, acquire basic numeracy skills and expand his or her vocabulary.
Let's talk about Kidlee!
At Kidlee, we believe that it is important for children to be happy during their daycare hours. That's why we support our great babysitters through various workshops, trainings and playful contents. So that they can offer the best support to their turn.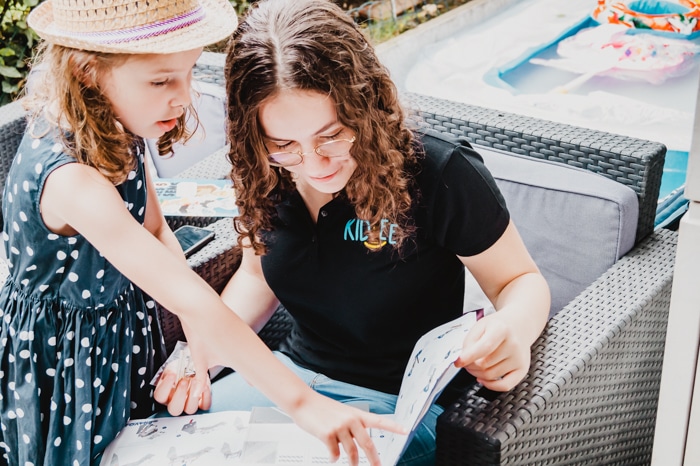 In other words, sign up with Kidlee (if you haven't already) and you'll have no shortage of resources to keep the kids busy while you babysit. To discover our world, just click here !
Are you a parent and want to know more about Kidlee babysitting? So, don't hesitate to contact us contact ! Our consultants will be happy to answer your questions.