Did you know? One in four students has a job, whether or not it is related to their studies. That's theInsee who says so. What we can tell you is that student jobs are trendy. Whether it's to finance your studies, to improve your skills or simply to have money to go out with friends. There are many reasons to find a student job for a young person. And some jobs are more in demand than others, especially babysitting. Whether it's for regular, part-time or occasional babysitting, in the evening or during school vacations, more and more parents are turning to the student babysitter profile for their childcare.
You are probably wondering: why do these families choose student babysitters? Kidlee enlighten you in the following!
4 reasons to choose a student babysitter
Flexibility, willingness to learn, affinity with young people, motivation and talents to share...
In addition to having the necessary skills for a successful childcare, student babysitters are resourceful and can considerably lighten the daily life of the parents by relieving them of various tasks!
Travel and homework help:
A student babysitter with a permit for your children's travel
More and more young people are acquiring driving licenses and even vehicles to gain flexibility. And thus, to be able to answer several offers of baby sitting, but also other student jobs such as delivery for example.
If he/she has a license, your student babysitter will be able to take your children to the pool, the garden and other extracurricular activities. You just have to discuss it with him/her beforehand so that it is included in the price.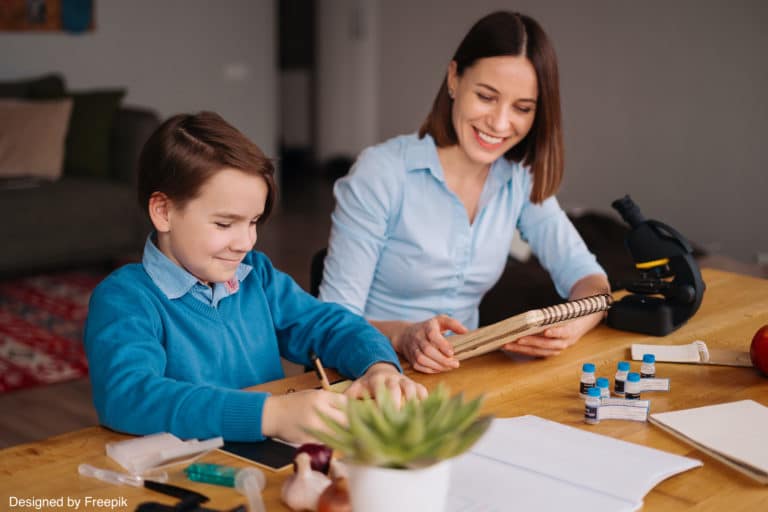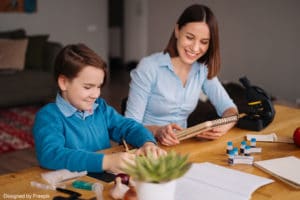 Student babysitter for homework help
Many students offer to help children and even teenagers with their schooling, especially by helping them with their homework and with the subjects that give them trouble.
Using a student babysitter for homework help is more advantageous. Firstly, because it will be less expensive than using a specialized structure or a private teacher. And secondly, the student being still in the academic bath, will have more facility to transmit, in a simple and pedagogical way, the information to the child. The latter will then assimilate it more quickly.
Is your child having a hard time with math? Also, your babysitter told you that he is doing a degree in math. What a wonderful coincidence! So, all that's left is to delegate this task to the babysitter.
A student babysitter has motivation and seriousness to spare
Young, fresh, full of ambition, this is the mindset of a student who has just landed a childcare contract. He's eager to learn and gain skills in addition to earning some extra money.
The student is indeed happy to have a stable income. And you, you are happy to have a motivated and energetic babysitter to accompany your children in their development and in their events.
The child is happy to be in the company of a young, dynamic mentor who understands his needs.
When the student profile is well selected (according to your research criteria and the child's interests), a bond of affinity is created over time.
Your child will feel comfortable with a caregiver who will entertain him/her and help him/her grow in independence and confidence.
A babysitter with a sense of responsibility
Often they are young people who have been in the babysitting business since they were 14 years old. Therefore, these student babysitters have experience and often even a BAFA in their pocket. A diploma that allows them to practice the profession of animator for children.
And as a bonus, to have premium skills such as first aid training, the ability to manage groups of children, to improvise complex activities or to animate a whole stay with children without lacking inspiration...
So, with this type of student profile, you can be sure that your children are in good hands. And if the person in question is able to juggle studies, a social life and a job, it means that he or she is mature enough to take care of children.
A student babysitter has a flexible schedule
Baby sitting hours for a student are very flexible. For example, there are days when they have classes from 9am to 5pm and days when they don't have classes at all.
Some student sitters can even adapt their class schedules to their work schedule. Especially when they are on an internship.
The student babysitter will therefore be able to adapt his or her schedule to meet the needs of childcare missions, whether they are regular or occasional.
Find your babysitter with Kidlee
Are you running out of time in your search for the ideal babysitter? You don't really know how to go about it? How to find the right person? Or you simply want to leave this task to the specialists? Then go through Kidlee !
Our mission for three years now, is to find the rare pearl of each family that uses our childcare services in Paris and Ile de France.
Finding your top nanny with Kidlee is easy. Just register and fill in your needs for free and without obligation on kidlee.fr. And then we take over! Our specialists will work hard to find THE profile, student or not, that matches your criteria. And above all, the needs of your children. 
You want to know more about the babysitting Kidlee ? Don't hesitate to write or call us! Our consultants will be happy to answer your questions. Find our contact information just HERE !